precision approach radar
Also found in:
Acronyms
,
Wikipedia
.
precision approach radar
[

prə′sizh·ən ə¦prōch ′rā'där

]

(navigation)

A radar system located on an airfield for observation of the position of an aircraft with respect to an approach path, and specifically intended to provide guidance to the aircraft during its approach to the field; the system consists of a ground radar equipment which is alternately connected to two antenna systems; one antenna system sweeps a narrow beam over a 20° sector in the horizontal plane; the second sweeps a narrow beam over a 7° sector in the vertical plane; course correction is transmitted to the aircraft from the ground. Abbreviated PAR.

McGraw-Hill Dictionary of Scientific & Technical Terms, 6E, Copyright © 2003 by The McGraw-Hill Companies, Inc.
precision approach radar (PAR)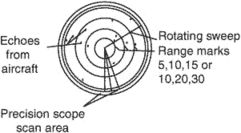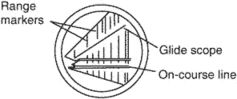 Primary radar equipment used to determine the position of an aircraft during final approach, in terms of lateral and vertical deviations relative to a nominal approach path, and in range relative to touch down (ICAO). The system is basically a high-definition radar designed to accurately locate an airplane within 300 ft of the range, 10 ft of the elevation at a distance of one mile, and 20 ft laterally. This form of navigation assistance is termed a
precision radar approach
. PAR is one of the components of a GCA (
ground-controlled approach
); the other is an SRE (surveillance radar element) or an ASR (airport surveillance radar). With the help of this equipment, pilots can be "talked down" during the final stages of the approach to land. Normally, an aircraft will be handed over to a PAR controller by an SRE controller. See also
ground-controlled approach
.
An Illustrated Dictionary of Aviation Copyright © 2005 by The McGraw-Hill Companies, Inc. All rights reserved