primary navigation display
Also found in:
Acronyms
.
primary navigation display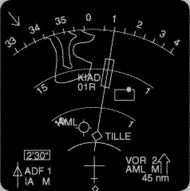 An integrated display of navigational data. Besides providing basic data such as heading, air speed, and altitude, it can provide:
i
. The VOR (very high frequency omnidirectional radio-range) indications in a full-compass rose mode or partial mode for VOR radial and course deviation.
ii
. The approach mode for localizer deviation, glide-slope deviation, DME (distance-measuring equipment), TCAS (traffic alert and collision avoidance system) data, and weather radar outputs.
iii
. The plan mode for route indication and TCAS data.
iv
. The map mode for information on the heading, waypoints, ETA (estimated time of arrival), and weather radar.
An Illustrated Dictionary of Aviation Copyright © 2005 by The McGraw-Hill Companies, Inc. All rights reserved