priming pump
priming pump
[

′prīm·iŋ 'pəmp

]

(mechanical engineering)

A device on motor vehicles and tanks, providing a means of injecting a spray of fuel into the engine to facilitate starting.

McGraw-Hill Dictionary of Scientific & Technical Terms, 6E, Copyright © 2003 by The McGraw-Hill Companies, Inc.
priming pump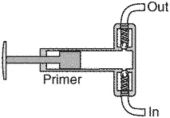 A small, hand- or electrically operated pump, used to spray gasoline into the induction system of a reciprocating engine for starting
the engine. The fuel does not pass through the carburetor. The pump must be locked during flight to avoid excessive fuel being drawn into the cylinders, especially at low power settings, which may result in an overly rich mixture and the realization of much less range than anticipated.
An Illustrated Dictionary of Aviation Copyright © 2005 by The McGraw-Hill Companies, Inc. All rights reserved