progressive
(redirected from progressively)
Also found in:
Dictionary
,
Thesaurus
,
Medical
.
progressive
1. favouring or promoting political or social reform through government action, or even revolution, to improve the lot of the majority
2. denoting or relating to an educational system that allows flexibility in learning procedures, based on activities determined by the needs and capacities of the individual child, the aim of which is to integrate academic with social development
3. (of a tax or tax system) graduated so that the rate increases relative to the amount taxed
4. (esp of a disease) advancing in severity, complexity, or extent
5. (of a dance, card game, etc.) involving a regular change of partners after one figure, one game, etc.
Collins Discovery Encyclopedia, 1st edition © HarperCollins Publishers 2005
progressive scan
Illuminating a screen by displaying lines sequentially from top to bottom. Also called "non-interlaced," all modern monitors and TVs support progressive scan. For example, the "p" in 1080p means that for each video frame 1,080 lines are displayed one after the other. The highest progressive format in common use is 2160p, which is 4K (see 4K TV).

The only reason progressive ever became a feature is because earlier analog TVs only illuminated half the lines at a time (see below). See interlace, frame rate, progressive scan DVD, progressive scan TV, HDTV, deinterlace and DTV.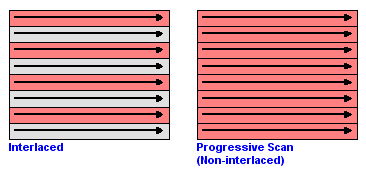 Progressive vs. Interlaced
Progressive formats (720p, 1080p, 2160p) display 60 full frames per second. In that same second, earlier analog TVs transmitted and displayed 60 half frames (60 fields). For more details, see interlace.
Copyright © 1981-2019 by The Computer Language Company Inc. All Rights reserved. THIS DEFINITION IS FOR PERSONAL USE ONLY. All other reproduction is strictly prohibited without permission from the publisher.