propylaeum
(redirected from propylaea)
Also found in:
Dictionary
,
Wikipedia
.
propylaeum
(prŏpĭlē`əm)

, in Greek architecture, a monumental entrance to a sacred enclosure, group of buildings, or citadel. A roofed passage terminated by a row of columns at each end formed the usual type. Known examples include those at Athens, Olympia, Eleusis, and Priene. The most splendid example are the Propylaea at Athens upon the west end of the Acropolis; their restored remains still stand. Of Pentelic marble, they were built (437–432 B.C.) at the command of Pericles by the architect MnesiclesMnesicles
, Greek architect, 5th cent. B.C. He designed the propylaea, and the Erechtheum is also sometimes ascribed to him. Both are on the acropolis at Athens.
.....

Click the link for more information.

.
Propylaeum
a formal passageway formed by porticoes and colonnades located symmetrically to the axis of movement. Propylaea are characteristic of the architecture of ancient Greece, where they were built as early as the Aegean culture. The structures were built at the main entrance to the acropolis or sacred grounds (temenos). An outstanding landmark in ancient Greek architecture is the Propylaea of the Athenian Acropolis, which was built between 437 and 432 B.C. by the architect Mnesicles. In later Greek architecture propylaea were scarcely used.
In the 19th century, neoclassical architects revived the use of propylaea (for example, the propylaea in Munich, 1846–60, architect L. von Klenze). In the late 19th century and in the 20th century, propylaea have been used as elements of especially important and imposing architectural complexes (for example, the propylaea at the entrance to the Smol'nyi building in Leningrad, 1923–25, architects V. A. Shchuko and V. G. Gel'freikh). They have also been used in commemorative structures (for example, the propylaea of Piskarev Cemetery in Leningrad, 1960, architects A. V. Vasil'ev, E. A. Levinson, and others).
propylaeum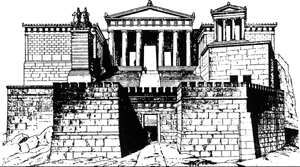 1. The monumental gateway to a sacred enclosure.
2.
(pl.,
cap.
Propylaea) Particularly, the elaborate gateway to the Acropolis in Athens.