pylon
Also found in:
Dictionary
,
Thesaurus
,
Medical
,
Financial
,
Wikipedia
.
pylon
1. a large vertical steel tower-like structure supporting high-tension electrical cables
2. a post or tower for guiding pilots or marking a turning point in a race
3. a streamlined aircraft structure for attaching an engine pod, external fuel tank, etc., to the main body of the aircraft
4. a monumental gateway, such as one at the entrance to an ancient Egyptian temple
5. a temporary artificial leg
Collins Discovery Encyclopedia, 1st edition © HarperCollins Publishers 2005
The following article is from The Great Soviet Encyclopedia (1979). It might be outdated or ideologically biased.
Pylon
(1) A rectangular, truncated, pyramidal tower. In ancient Egyptian architecture, pylons flanked the narrow entrance of a temple. Such structures have been known since the Middle Kingdom, roughly from 2050 to 1700 B.C.
(2) A heavy pier used to support flat or arched roofs (for example, the roofs of subway stations).
(3) A massive low pier used to flank the entrance way to a palace terrace or park. Such pylons were widely used in classical architecture.
The Great Soviet Encyclopedia, 3rd Edition (1970-1979). © 2010 The Gale Group, Inc. All rights reserved.
pylon
[

′pī'län

]

(aerospace engineering)

A suspension device externally installed under the wing or fuselage of an aircraft; it is aerodynamically designed to fit the configuration of specific aircraft, thereby creating an insignificant amount of drag; it includes means of attaching to accommodate fuel tanks, bombs, rockets, torpedoes, rocket motors, or the like.

(civil engineering)

A massive structure, such as a truncated pyramid, on either side of an entrance.

A tower supporting a wire over a long span.

A tower or other structure marking a route for an airplane.

McGraw-Hill Dictionary of Scientific & Technical Terms, 6E, Copyright © 2003 by The McGraw-Hill Companies, Inc.
pylon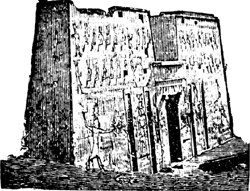 1. Monumental gateway to an Egyptian temple, consisting of a pair of tower structures with slanting walls flanking the entrance portal.
2. In modern usage, a tower-like structure, as the steel supports for electrical high-tension
McGraw-Hill Dictionary of Architecture and Construction. Copyright © 2003 by McGraw-Hill Companies, Inc.
pylon
i. The structure that holds a pod or an engine nacelle to the wing or fuselage.
ii. Towerlike structures that make turning points in an air race or ground reference maneuver.
An Illustrated Dictionary of Aviation Copyright © 2005 by The McGraw-Hill Companies, Inc. All rights reserved