pyranometer
Also found in:
Dictionary
,
Wikipedia
.
pyranometer
(pĭr'ənŏm`ətər)

, actinometeractinometer
, instrument used to measure the heating power of radiation. Actinometers are used chiefly in meteorology to measure solar radiation as transmitted directly by the sun, scattered by the atmosphere, or reflected by the earth.
.....

Click the link for more information.

used to measure the total radiation incident on a surface.

The Columbia Electronic Encyclopedia™ Copyright © 2013, Columbia University Press. Licensed from Columbia University Press. All rights reserved.

www.cc.columbia.edu/cu/cup/
The following article is from The Great Soviet Encyclopedia (1979). It might be outdated or ideologically biased.
Pyranometer
an instrument for measuring the total and scattered solar radiation incident on a horizontal surface. To measure just scattered radiation, a screen is used to shade the instrument from direct sun rays.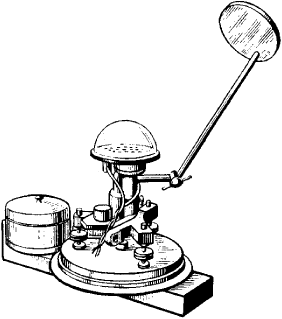 In the USSR the pyranometer designed by lu. D. lanishevskii (see Figure 1) is extensively used. The radiation detector in a lanishevskii pyranometer is a thermopile consisting of series-connected manganin and constantan strips. The even-numbered junctions of the thermopile are covered with carbon black, and the odd-numbered with magnesia alba. Solar radiation is absorbed to a greater extent by the carbon black than by the magnesia. For this reason, a temperature difference arises between the junctions, and a thermoelectric current proportional to the incident radiation is generated. This current is measured by a galvanometer. A glass cap protects the thermopile from the effects of atmospheric infrared radiation, wind, and precipitation. In order to obtain the absolute values of the radiation, pyranometer is checked against an absolute pyrheliometer.
REFERENCE
lanishevskii, lu. D. Aktinometricheskie pribory i melody nabliudenii. Leningrad, 1957.
The Great Soviet Encyclopedia, 3rd Edition (1970-1979). © 2010 The Gale Group, Inc. All rights reserved.
pyranometer
[

¦pir·ə′näm·əd·ər

]

(engineering)

An instrument used to measure the combined intensity of incoming direct solar radiation and diffuse sky radiation; compares heating produced by the radiation on blackened metal strips with that produced by an electric current. Also known as solarimeter.

McGraw-Hill Dictionary of Scientific & Technical Terms, 6E, Copyright © 2003 by The McGraw-Hill Companies, Inc.