quinine
Also found in:
Dictionary
,
Thesaurus
,
Medical
,
Acronyms
,
Wikipedia
.
quinine
(kwī`nīn', kwĭnēn`)

, white crystalline alkaloid with a bitter taste. Before the development of more effective synthetic drugs such as quinacrine, chloroquine, and primaquine, quinine was the specific agent in the treatment of malariamalaria,
infectious parasitic disease that can be either acute or chronic and is frequently recurrent. Malaria is common in Africa, Central and South America, the Mediterranean countries, Asia, and many of the Pacific islands.
.....

Click the link for more information.

. Almost insoluble in water, it dissolves readily in alcohol and other organic solvents. It is derived from the bark, called quina quina by the indigenous people of Peru, of several species of Cinchona and is used in the form of a salt, especially the sulfate. By the middle of the 17th cent. Jesuit missionaries had brought cinchona bark to Europe from South America, and quinine was isolated in 1820 by the French chemists J. B. CaventouCaventou, Joseph Bienaimé
, 1795–1877, French chemist. He was professor at the École de Pharmacie, Paris. With P. J. Pelletier he isolated quinine (from cinchona bark), strychnine, and brucine and studied the green pigment in plants (which they named chlorophyll).
.....

Click the link for more information.

and P. J. PelletierPelletier, Pierre Joseph
, 1788–1842, French chemist. With J. B. Caventou, he was cofounder of alkaloid chemistry and codiscoverer of quinine, strychnine, brucine, and other alkaloids. He also isolated such other substances as picrotoxin, caffeine, and piperine.
.....

Click the link for more information.

; chemical synthesis was achieved in 1944 by R. B. WoodwardWoodward, Robert Burns,
1917–80, American chemist and educator, b. Boston, grad. Massachusetts Institute of Technology (S.B., 1936; Ph.D., 1937). He taught at Harvard from 1938, becoming Donner professor of science there in 1960.
.....

Click the link for more information.

and W. E. Doering, American chemists.

Certain strains of the malarial parasite Plasmodium falciparum have now developed a resistance to chloroquine, and quinine is again the preferred drug in some regions. Quinine also has been used medicinally to allay fever and pain, to induce uterine contractions during labor, and as a sclerosing, or hardening, agent in the treatment of varicose veins. It is added to soft drinks called tonics, which are often mixed with alcoholic beverages. Excessive dosage or continuous use of quinine may cause cinchonism, characterized by ringing in the ears, headache, dizziness, changes in blood pressure, and even death.
Bibliography
See F. Rocco, The Miraculous Fever-Tree (2003).
The Columbia Electronic Encyclopedia™ Copyright © 2013, Columbia University Press. Licensed from Columbia University Press. All rights reserved.
www.cc.columbia.edu/cu/cup/
The following article is from The Great Soviet Encyclopedia (1979). It might be outdated or ideologically biased.
Quinine
an alkaloid found in the bark and other parts of trees of the genera Cinchona and Remijia of the family Rubiaceae, which grow in tropical countries. Quinine was first isolated in pure form in 1820 by the French chemists P. Pelletier and J. Caventou. It was successfully synthesized in 1944 by the American chemists R. Woodward and W. Doering.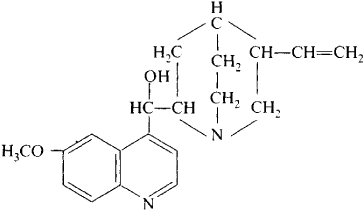 In its chemical structure, quinine is a complex polycyclic compound. A base, it is poorly soluble in water but readily soluble in alcohol, ether, and chloroform.
Quinine is a typical protoplasmic poison. In therapeutic doses it affects various systems of the organism; quinine hydrochloride, quinine dihydrochloride, and quinine sulfate are used in medicine. Quinine depresses the heat-regulator centers. It reduces the excitability of the heart muscle, lengthens the refractory period, and somewhat decreases cardiac contractility. It stimulates the muscles of the uterus and increases its contraction. Because of its ability to depress the vital activities of the erythrocytic forms of malarial plasmodia, quinine is used as an antimalarial agent. In toxic doses, it depresses the activity of the cerebral cortex, leading to loss of hearing, vertigo, nausea, and other symptoms of poisoning.
In view of the difficulty in synthesizing quinine, it is isolated from the bark of the cinchona tree. The USSR imports very little quinine because of the production of effective Soviet synthetic antimalarial agents and the almost complete eradication of malaria.
The Great Soviet Encyclopedia, 3rd Edition (1970-1979). © 2010 The Gale Group, Inc. All rights reserved.
What does it mean when you dream about quinine?
Quinine water is the solution that is drunk to relieve the fever of persons suffering from malaria. Perhaps the dreamer thirsts after self expression, and a situation or a condition has them in such an untenable position that they are feverish with frustration.
The Dream Encyclopedia, Second Edition © 2009 Visible Ink Press®. All rights reserved.
quinine
[

′kwī'nīn

]

(organic chemistry)

C20H24N2O2·3H2O White powder or crystals, soluble in alcohol, ether, carbon disulfide, chloroform, and glycerol; an alkaloid derived from cinchona bark; used as an antimalarial drug and in beverages.

McGraw-Hill Dictionary of Scientific & Technical Terms, 6E, Copyright © 2003 by The McGraw-Hill Companies, Inc.
quinine
a bitter crystalline alkaloid extracted from cinchona bark, the salts of which are used as a tonic, antipyretic, analgesic, etc., and in malaria therapy. Formula: C20H24N2O2
Collins Discovery Encyclopedia, 1st edition © HarperCollins Publishers 2005