quoin
(redirected from quoin stones)
Also found in:
Dictionary
,
Thesaurus
.
quoin
, coign, coigne

1. an external corner of a wall

2. a stone forming the external corner of a wall
Quoin
One of a series of stones or bricks used to mark or visually reinforce the exterior corners of a building; often through a contrast of size, shape, color or material, which may be imitated in non-load-bearing materials.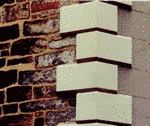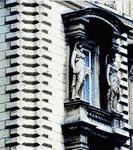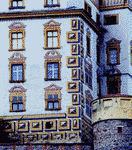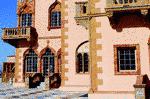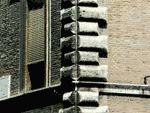 rustic quoin
A stone quoin, projecting out from the main surface of the wall with rough, split faces and chamfered edges, to give the appearance of rugged strength.
quoin
[

kȯin

]

(building construction)

One of the members forming an outside corner or exterior angle of a building, and differentiated from the wall by color, texture, size, or projection.

(graphic arts)

An expandable device used to secure type and printing plates in a chase.
coin, quoin
1.The corner of a building.
2. The stones or bricks which form the corner.
3. A wedge.
---
quoin, coign, coin
In masonry, a hard stone or brick used, with similar ones, to reinforce an external corner or edge of a wall or the like; often distinguished decoratively from adjacent masonry; may be imitated in non-load-bearing materials. Occasionally imitated, for decorative purposes, by wood that has been finished to look like masonry.