Rabbet
Also found in:
Dictionary
,
Thesaurus
,
Medical
,
Legal
,
Financial
,
Wikipedia
.
rabbet
[

′rab·ət

]

(engineering)

A groove cut into a part.

A strip applied to a part as, for example, a stop or seal.

A joint formed by fitting one member into a groove, channel, or recess in the face or edge of a second member.
Rabbet
A long groove or channel that is cut into the edge or face of a board to receive another board that is fitted into the groove at a right angle to it.
rabbet, rebate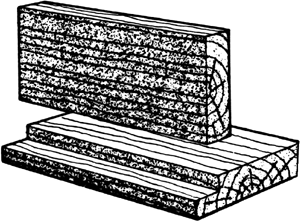 1. A longitudinal channel, groove, or recess cut out of the edge or face of a member; esp. one to receive another member, or one to receive a frame inserted in a door or window opening, or the recess into which glass is installed in a window sash.
3. A shallow recess in one body to receive another, as at the edges of a pair of doors or windows so shaped as to provide a tight fit; one half of the edge projects beyond, and serves as a stop for, the other edge of each leaf.