radar cross section
Also found in:
Acronyms
,
Wikipedia
.
radar cross section
[

′rā'där ′krȯs 'sek·shən

]

(electromagnetism)
radar cross section (RCS)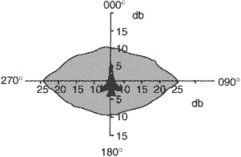 The measure of reflectivity of the received radar signals by an aircraft, it is expressed as square meters (m
2
). It is dependent on the true size, range, aspect, geometric shape, materials, surface texture, and other properties of the target aircraft. The most important element is the target aspect [i.e., the area normal (perpendicular) to the radar axis]. The higher the area, the greater the RCS.