radarsonde
radarsonde
[

′rā'där'sänd

]

(engineering)

An electronic system for automatically measuring and transmitting high-altitude meteorological data from a balloon, kite, or rocket by pulse-modulated radio waves when triggered by a radar signal.

A system in which radar techniques are used to determine the range, elevation, and azimuth of a radar target carried aloft by a radiosonde.

McGraw-Hill Dictionary of Scientific & Technical Terms, 6E, Copyright © 2003 by The McGraw-Hill Companies, Inc.
radarsonde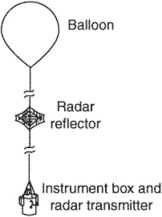 Similar to a
radiosonde
, except that information on temperature, pressure, and other atmospheric data is transmitted by secondary radar. The wind velocity at various heights is measured by radar tracking the radarsonde. See also
radiosonde
.
An Illustrated Dictionary of Aviation Copyright © 2005 by The McGraw-Hill Companies, Inc. All rights reserved