radial
(redirected from radials)
Also found in:
Dictionary
,
Thesaurus
,
Medical
.
radial
1. of or relating to the arms of a starfish or similar radiating structures
2. Anatomy of or relating to the radius or forearm
3. Astronomy (of velocity) in a direction along the line of sight of a celestial object and measured by means of the red shift (or blue shift) of the spectral lines of the object
4.
Zoology
a. any of the basal fin rays of most bony fishes
b. a radial or radiating structure, such as any of the ossicles supporting the oral disc of a sea star
Collins Discovery Encyclopedia, 1st edition © HarperCollins Publishers 2005
Radial
Forms radiating from or converging to a common center or developing symmetrically about a central point.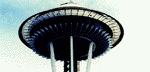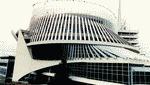 Illustrated Dictionary of Architecture Copyright © 2012, 2002, 1998 by The McGraw-Hill Companies, Inc. All rights reserved
radial
[

′rād·ē·əl

]

(graphic arts)

A line or direction from the center (principal point, isocenter, nadir point, or substitute center) to any point on a photograph.

(mathematics)

For a plane curve C, the locus of end points of lines, drawn from a fixed point, that are equal and parallel to the radius of curvature of C.

(navigation)

One of a number of radial lines of position defined by an azimuthal radio navigation facility and identified in terms of the bearing (usually magnetic) of all points on that line from the facility.

(science and technology)

Directed or diverging from a center.

McGraw-Hill Dictionary of Scientific & Technical Terms, 6E, Copyright © 2003 by The McGraw-Hill Companies, Inc.
radial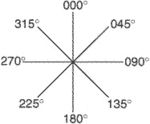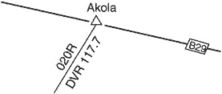 i
. A discrete bearing, usually magnetic, transmitted by a navigational beam (very high frequency
omnidirectional radio-range, or VOR; tactical air navigation, or TACAN; very high frequency omnidirectional range tactical air navigation, or VORTAC; etc.), which is the origin. There are 360 radials radiating out from any navigational aid (NAVAID), and each radial is named for the number of degrees clock-wise from magnetic north that the radial leaves the navigational facility.
ii
. A reciprocating engine in which cylinders are arranged radially or like spokes in a wheel.
iii
. A line or direction from the radial center to any point on a photograph. The radial center is assumed to be the principal point, unless other-wise designated; (e.g., nadir radial).
An Illustrated Dictionary of Aviation Copyright © 2005 by The McGraw-Hill Companies, Inc. All rights reserved