raised floor
Also found in:
Wikipedia
.
raised floor
An elevated floor used in datacenters and laboratory facilities that allows wires to be run underneath. A raised floor is also used to distribute cooling. There are many varieties; however, the traditional raised floor uses square tiles over an aluminum grid that creates a plenum (space) several inches above the actual floor. Each tile can typically be lifted up and out for access to the cables below. Although raised floors are commonly used for datacenter cooling, a unique alternative eliminates the raised floor (see KyotoCooling).




The Traditional Raised Floor
This type of raised floor has been the standard in datacenters for decades. The structural grid is spread out over the original floor, which allows flexibility in the initial equipment installation as well as future changes. (Image courtesy of Imprint Data Center Solutions, www.imprintdcs.com)
raised floor
A false floor, which provides a space for cables or ducts above the structural floor, floor sections are usually supported on short, adjustable peg columns
.
See also:
Floor
raised floor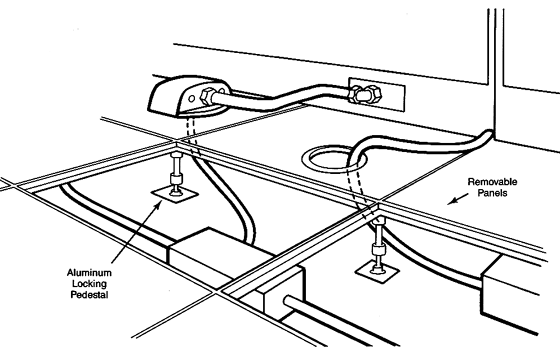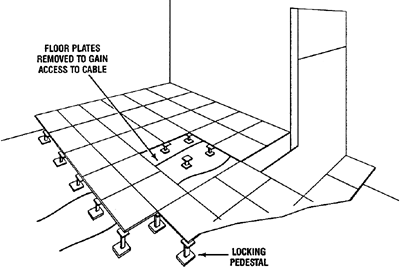 A floor fabricated entirely of square plates that rest on interlocked pedestals attached to the structural floor of a building. The plates usually are fabricated of aluminum and are covered with cork, carpet, or vinyl tiles. The plates can be removed to provide convenient access to the cables beneath; used extensively in computer rooms.