ramp
Also found in:
Dictionary
,
Thesaurus
,
Medical
,
Financial
,
Acronyms
,
Idioms
,
Wikipedia
.
ramp:
see oniononion,
plant of the family Liliaceae (lily family), of the same genus (Allium) as the chive (A. schoenoprasum), garlic (A. sativum), leek (A. porrum), and shallot (A. ascalonium).
.....

Click the link for more information.

.
wild leek
Short, pointed oval leaves, 2-3 leaves together on a scallion-like stalk, usually reddish at the base. Strong onion-leek smell. Leaves die before whitish yellow flowers appear. Similar to but weaker effects of garlic. Whole plant is edible.
Ramp
(in Russian, duchka, from Polish ducza, pit), a slope built of rock in a worked-out area of an underground coal mine. The ramp is used to bring the mineral down from overlying formations, to transport fill and reinforcement materials, and to provide communications between levels. During the working of the ore deposits, the short raises drilled upward from the haulage drift or crosscut to yield the ore broken out in the mining area are called ramps.
ramp
[

ramp

]

(engineering)

A uniformly sloping platform, walkway, or driveway.

A stairway which gives access to the main door of an airplane.

(hydrology)

An accumulation of snow forming an inclined plane between land or land ice and sea ice or shelf ice. Also known as drift ice foot.

(mining engineering)

A slope between levels in open-pit mining.
ramp
1. A sloped surface connecting two or more planes at different levels.
2. A concave sweep in a vertical plane.
3. The paved area of an airport between the terminal building and the taxiways, used to park airplanes during loading and unloading.
ramp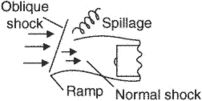 i
. A defined paved area, on a land airport, intended to accommodate aircraft for purposes of loading or unloading passengers or cargo, refueling, or maintenance. Also called an
apron
or a
tarmac
.
ii
. The sharp-edged wedge with a sloping wall forming the inner wall of a supersonic inlet duct to create an oblique shock wave(s) and thus improve pressure recovery, especially at supersonic speeds. A ramp normally has a variable geometry.
iii
. The platform at the rear of the aircraft or helicopter from which loading is done.