rebate
Also found in:
Dictionary
,
Thesaurus
,
Legal
,
Financial
,
Wikipedia
.
rebate,
partial refund of the total price paid for goods or services. In the United States, rebates were historically given by railroads to favored shippers as a return on transportation charges. The Elkins Act (1903), the Hepburn Act (1906), and the regulations of the Interstate Commerce CommissionInterstate Commerce Commission
(ICC), former independent agency of the U.S. government, established in 1887; it was charged with regulating the economics and services of specified carriers engaged in transportation between states.
.....

Click the link for more information.

prohibit and penalize railroad rebates. A tax rebate from local, state, or federal governments may occur when unexpectedly large tax revenues create a budget surplus. The term is also used to refer to coupons, trading stamps, and other premiums used by retailers to stimulate sales.

The Columbia Electronic Encyclopedia™ Copyright © 2013, Columbia University Press. Licensed from Columbia University Press. All rights reserved.

www.cc.columbia.edu/cu/cup/
rabbet, rebate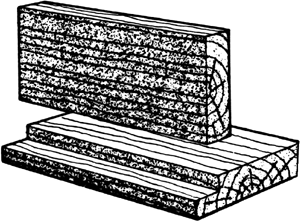 1. A longitudinal channel, groove, or recess cut out of the edge or face of a member; esp. one to receive another member, or one to receive a frame inserted in a door or window opening, or the recess into which glass is installed in a window sash.
3. A shallow recess in one body to receive another, as at the edges of a pair of doors or windows so shaped as to provide a tight fit; one half of the edge projects beyond, and serves as a stop for, the other edge of each leaf.
McGraw-Hill Dictionary of Architecture and Construction. Copyright © 2003 by McGraw-Hill Companies, Inc.
rebate
a refund of a fraction of the amount payable or paid, as for goods purchased in quantity; discount
Collins Discovery Encyclopedia, 1st edition © HarperCollins Publishers 2005