reciprocal bearing
reciprocal bearing
[

ri′sip·rə·kəl ′ber·iŋ

]

(navigation)

McGraw-Hill Dictionary of Scientific & Technical Terms, 6E, Copyright © 2003 by The McGraw-Hill Companies, Inc.
back beam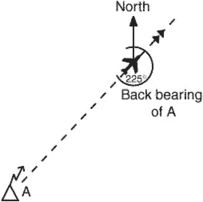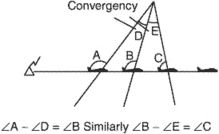 A reciprocal beam on the other side of a transmitter and on a reciprocal heading, as in an ILS (instrument landing system) localizer. Aircraft on a back beam may not have glide-path information.
back bearingi
. The horizontal angle, measured clock-wise from a datum, and observed from an aircraft for a point over which it has passed without an intervening alteration of a heading. It is the reciprocal of track.
ii
. A bearing differing by 180°, or measured in the opposite direction from a given bearing. Also called a
reciprocal bearing
.
iii
. The bearing at the opposite end of a line from the observer as measured from the true meridian at the opposite end of the line. The back bearing on all lines (other than north-south lines) differs from the bearing at the observer's station by the amount of convergency of the meridians between the two points.
An Illustrated Dictionary of Aviation Copyright © 2005 by The McGraw-Hill Companies, Inc. All rights reserved