roll
(redirected from rolls off)
Also found in:
Dictionary
,
Thesaurus
,
Medical
,
Legal
,
Financial
,
Idioms
.
roll,
in aviation: see airfoilairfoil,
surface designed to develop a desired force by reaction with a fluid, especially air, that is flowing across the surface. For example, the fixed wing surfaces of an airplane produce lift, which opposes gravity.
.....

Click the link for more information.

.

The Columbia Electronic Encyclopedia™ Copyright © 2013, Columbia University Press. Licensed from Columbia University Press. All rights reserved.

www.cc.columbia.edu/cu/cup/
roll
[

rōl

]

(geology)

A primary sedimentary structure produced by deformation involving subaqueous slump or vertical foundering.

(mechanics)

Rotational or oscillatory movement of an aircraft or similar body about a longitudinal axis through the body; it is called roll for any degree of such rotation.

(mechanical engineering)

A cylinder mounted in bearings; used for such functions as shaping, crushing, moving, or printing work passing by it.

(mining engineering)

(textiles)

A continuous strand made by rolling, rubbing, or twisting fibers.

McGraw-Hill Dictionary of Scientific & Technical Terms, 6E, Copyright © 2003 by The McGraw-Hill Companies, Inc.
roll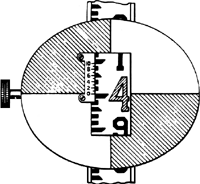 1. A rounded strip fastened to, and running along, the ridge of a roof.
2. In a roof covered
McGraw-Hill Dictionary of Architecture and Construction. Copyright © 2003 by McGraw-Hill Companies, Inc.
roll
An Illustrated Dictionary of Aviation Copyright © 2005 by The McGraw-Hill Companies, Inc. All rights reserved
roll
1. a cylinder used to flatten something; roller
2. a very rapid beating of the sticks on a drum
3. a flight manoeuvre in which an aircraft makes one complete rotation about its longitudinal axis without loss of height or change in direction
4. a throw of dice
5. a bookbinder's tool having a brass wheel, used to impress a line or repeated pattern on the cover of a book
Collins Discovery Encyclopedia, 1st edition © HarperCollins Publishers 2005