Rosette
(redirected from rosette inhibition test)
Also found in:
Dictionary
,
Thesaurus
,
Medical
.
rosette
2. a rose-shaped patch of colour, such as one of the clusters of spots marking a leopard's fur
3. Botany a circular cluster of leaves growing from the base of a stem
Rosette
A round pattern with a carved conventionalized floral motif; a circular decorative wood plaque used in joinery, such as one applied to a wall to receive the end of a stair rail.
Rosette
an ornamental motif in the form of a stylized flower, such as the rose, in full bloom. The rosette has been widely used in decorative art since ancient times.
---
Rosette
a group of leaves situated close together on a short vertical shoot that rises only slightly aboveground. The individual leaves in a rosette radiate in all directions. The upper leaves are usually smaller than the lower ones and have shorter stalks, which help somewhat to shade the lower leaves. Plants that form rosettes grow primarily in hot, arid places and in polar regions (usually on rocks). One of the factors influencing the development of rosettes is evaporation. For example, when cultivated under conditions of increased air moisture, some plants that ordinarily would produce rosettes develop instead shoots with long internodes and spirally arranged leaves. Many plants of several families, including Crassulaceae, Cruciferae, Com-positae, and Plantaginaceae, have rosettes.
---
Rosette
a common disease of fruit crops (apples, pears, cherries, quince, plums) and some trees and shrubs (maple, hawthorn). Rosette is manifested by the appearance of small narrow leaves, which are ten to 30 times smaller than normal leaves, and by the development of rosettes of ten to 20 normal leaves at the top of the shoot. The disease is encountered in many countries, including the USSR (primarily in the Volga Region).
Some botanists believe that rosette is caused by viruses; others consider it to be a functional pathological process caused by a disturbance in mineral supply, mainly a deficiency of zinc. Apple trees in orchards are most severely damaged. Rosette may affect individual branches, part of the crown, or the entire crown. Symptoms are pronounced after flowering, that is, during shoot growth. Rosette lowers the excitability of the buds and the ability of the shoots to regenerate, as a result of which growth is stunted and naked, slender whips appear in the crown. Severely damaged plants do not bear fruit. Rosette lasting a long period of time leads to desiccation of the branches and death of the tree. The apple varieties most resistant to the disease are Common Antonovka, Borovinka, Mal'ty, and others.
Measures to control rosette include properly timed culling of diseased plants in the nursery, preparing high-quality inoculation material, spraying the dormant buds of affected trees with zinc sulfate in early spring or immediately after flowering, and—in irrigated gardens—planting alfalfa or other leguminous grasses between rows to acidify the soil and improve the zinc assimilation.
REFERENCES
Tarasov, V. M. Rozetochnost 'iabloni. Moscow, 1968. Dement'eva, M. I. Fitopatologiia. Moscow, 1970.
rosette
[

rō′zet

]

(biology)

Any structure or marking resembling a rose.

(metallurgy)

Rounded constituents in a microstructure arranged in whorls.

Strain gages arranged to indicate at a single position the strains in three different directions.

(mineralogy)

Rose-shaped, crystalline aggregates of barite, marcasite, or pyrite formed in sedimentary rock.

(plant pathology)

Any of various plant diseases in which the leaves become clustered in the form of a rosette.
rosette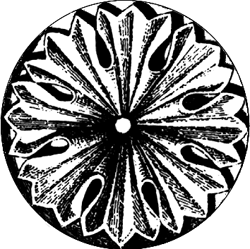 1.
A round pattern with a carved or painted conventionalized floral motif; a
rosace
.
2. A circular or oval decorative wood plaque used in joinery, such as one applied to a wall to receive the end of a stair rail.
3. An ornamental nailhead or screwhead.
Rosette
D'Albert's pliable, versatile, talented, acknowledged bedmate. [Fr. Lit.: Mademoiselle de Maupin. Magill I, 542–543]