row
Also found in:
Dictionary
,
Thesaurus
,
Medical
,
Acronyms
,
Idioms
,
Wikipedia
.
row
1
1. Chiefly Brit a street, esp a narrow one lined with identical houses
2. Maths a horizontal linear arrangement of numbers, quantities, or terms, esp in a determinant or matrix
3. a horizontal rank of squares on a chessboard or draughtboard
---
row
2
1. an act, instance, period, or distance of rowing
2. an excursion in a rowing boat
Collins Discovery Encyclopedia, 1st edition © HarperCollins Publishers 2005
row
[

rō

]

(computer science)

The characters, or corresponding bits of binary-coded characters, in a computer word.

Equipment which simultaneously processes the bits of a character, the characters of a word, or corresponding bits of binary-coded characters in a word.

Corresponding positions in a group of columns.

McGraw-Hill Dictionary of Scientific & Technical Terms, 6E, Copyright © 2003 by The McGraw-Hill Companies, Inc.
row
This article is provided by FOLDOC - Free Online Dictionary of Computing (foldoc.org)
row
(1) A horizontal set of data or components. In a graph, it is called the "x-axis." Contrast with column.

(2) A group of related and adjacent fields of data about a subject or transaction in a database. A collection of rows makes up a database file (table). Also called a "record" or "tuple." See relational database.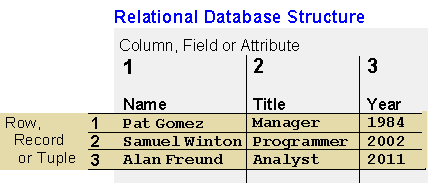 Rows in a Relational Table
In a relational database, rows are also called "records" and "tuples."
Copyright © 1981-2019 by The Computer Language Company Inc. All Rights reserved. THIS DEFINITION IS FOR PERSONAL USE ONLY. All other reproduction is strictly prohibited without permission from the publisher.