sage
(redirected from sager)
Also found in:
Dictionary
,
Thesaurus
,
Medical
,
Wikipedia
.
sage,
any species of the large genus Salvia, aromatic herbs or shrubs of the family Labiatae (mintmint,
in botany, common name for members of the Labiatae, a large family of chiefly annual or perennial herbs. Several species are shrubby or climbing forms or, rarely, small trees.
.....

Click the link for more information.

family). The common sage of herb gardens is S. officinalis, a strongly scented shrubby perennial, native from S Europe to Asia Minor. The dried leaves are used as seasoning, especially in dressings for meat and poultry and also in sage cheese; sage tea, once popular as a beverage, has also been used as a domestic remedy for colds and other ailments and as a hair rinse. The oil is used in medicinals and flavorings and sometimes in perfumery. Prized since ancient times, common sage was thought to prolong life and to increase wisdom by strengthening the memory—whence the name.

The ornamental sages are often popularly called salvia. Of these the scarlet sage (S. splendens), native to Brazil, is best known. Clary (S. sclarea), native from the Mediterranean region to Iran, is a biennial sage whose seeds were once used to "clear the eye"; it has bluish or pinkish flowers, and its oil is sometimes used similarly to that of the common sage.

The seeds of some species of W North America, e.g., the thistle sage (S. carduacea) of California, were used by Native Americans for a flour and a beverage. Another species is S. carnosa, the purple sage of the western deserts. S. divinorum, native to S Mexico and known as diviner's sage or magic mint, has psychoactive properties and is used as a hallucinogenic drug. Most sages are good honey plants.

One of the lantanas (see verbenaverbena,
common name for some members of the Verbenaceae, a family of herbs, shrubs, and trees (often climbing forms) of warmer regions of the world. Well-known wild and cultivated members of the family include species of the shrubby Lantana and of Verbena;
..... Click the link for more information. ) is sometimes called red or yellow sage. True sages are classified in the division MagnoliophytaMagnoliophyta
, division of the plant kingdom consisting of those organisms commonly called the flowering plants, or angiosperms. The angiosperms have leaves, stems, and roots, and vascular, or conducting, tissue (xylem and phloem).
..... Click the link for more information. , class Magnoliopsida, order Lamiales, family Labiatae.
sage
""If one consults enough herbals . . . every sickness known to humanity will be listed as being cured by sage." - Varro Taylor, Ph.D. (herb expert) Another member of the vast mint family, this famous herb has showy flowers (blue, red, purple, pink, white, ) that are divided into upper and lower "lips", and woolly, silver-gray-green leaves that are green year round. Many varieties have tiny hairs growing on the leaves, stems and flowers. Some of these hairs release a volatile oil when rubbed. Antimicrobial, antibacterial, anti-fungal, antiseptic, expectorant, diuretic. Sage has lots of flavonoids, phenolic acids and antioxidant enzymes, including superoxide dismutase (SOD) and peroxidas, making it a top powerful anti-oxidant plant used for protection against all types of degenerative diseases like cancer, heart disease, diabetes, arthritis, macular degeneration. Contains rosmarinic acid, a potent antioxidant, anti-inflammatory (also found in rosemary) used for rheumatoid arthritis, asthma, lungs, atherosclerosis. Sage is famous as a strong memory enhancer for better brain function and possibly even Alzheimer`s. For women, sage contains sclereol, which stimulates the body to produce its own estrogen, which helps with all gynecological problems and female issues like menopause, night sweats, hot flashes, despair, fatigue. May also help with diabetes (even type 2) through its ability to boost insulin action. Used to reduce anxiety, allergies and promote digestion. Anti-bacterial properties used to help stomach, intestines, nose, sinus, throat, mouth, skin, scalp, hair, lungs, genitals and eyes. Antiseptic for cuts, wounds. Sage oil contains camphor and camphen, which are used against fungal infections, dermatitis, athlete's foot, skin diseases, infections. Used in skin creams for the cosmetic industry. Helps digest fats and proteins. Add chopped fresh or dried leaves to food, or dried powders in smoothies. For white teeth, rub them with fresh sage leaves, which also strengthens the teeth, gums and freshens breath. Eat sage leaves every day. "
sage
[

sāj

]

(botany)

Salvia officinalis. A half-shrub of the mint family (Labiatae); the leaves are used as a spice.
---
SAGE
[

sāj

]

(ordnance)

An air defense system in which air surveillance data are processed for transmission to computers at direction centers, where the data is further processed, evaluated, and analyzed automatically to produce weapon assignment and guidance orders. Derived from semiautomatic ground environment.
sage
symbolizes domestic virtue. [Flower Symbolism: Flora Symbolica, 177]
---
sage
a rejuvenator; said to stop gray hair. [Herb Symbolism: Flora Symbolica, 165]
sage
1. a perennial Mediterranean plant, Salvia officinalis, having grey-green leaves and purple, blue, or white flowers: family Lamiaceae (labiates)
SAGE
(body, job)
SAGE
(project)
SAGE
(1) A technical special interest group. See USENIX.

(2) (Scalable, Automated, Guided Execution) A white box test that generates test data for each unique control path in the program. Contrast with "fuzz testing," which is a black box technique that generates random input without any knowledge of the program's logic. See white box testing.

(3) (Semi-Automatic Ground Environment) The air defense system developed in the 1950s for the Cold War. SAGE combined computer systems and a sophisticated radar and communications system to track U.S. air space and send the data to 23 installations around the country. Each installation had its own computer and backup system. SAGE used CRTs, and a light pen was used to hone in on a suspicious blip on the screen.

SAGE never intercepted enemy aircraft because there were none, but the companies that built the machines, such as IBM, gained extraordinary experience that was brought to bear in later development. The SAGE computers evolved from the Whirlwind computer at MIT (see Whirlwind).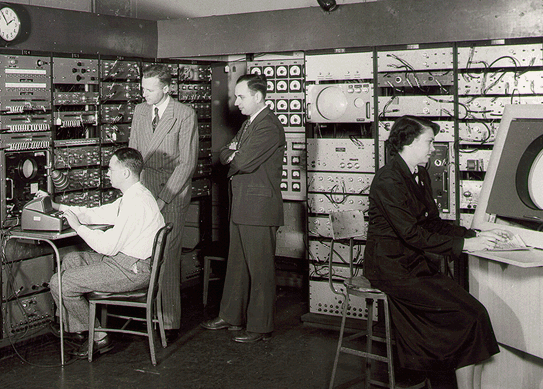 The Whirlwind I
The Whirlwind was developed at MIT and became the prototype for the SAGE air defense computers. The use of CRTs and light pens were developed for the Whirlwind and became critical parts of the user interface. You could touch a blip on screen to get more information. (Image courtesy of The MITRE Corporation Archives.)