sailing
Also found in:
Dictionary
,
Thesaurus
,
Idioms
,
Wikipedia
.
sailing,
as a sport, the art of navigating a sailboat for recreational or competitive purposes.
Racing Classes
There is no single "yacht type" of boat, rather many types that include sloops, yawls, catamarans, and ketches. The hundreds of different racing classes fall into three broad groups: one-design classes where very similar boats compete; handicap classes where dissimilar boats race, some with an advantageous time allowance; and rating classes where a variety of formulas take into account boat length, sail size, type of rig, and other factors. Sailboats originally had wooden hulls with sails made of sailcloth, a canvas commonly called duck. Today, however, fiberglass or carbon-fiber composite hulls, sometimes equipped with hydrofoils, and synthetic fabrics predominate; rigid wing sails, which resemble aircraft wings, are used in place of a fabric sail when a high speed is desired (as in windsurfing or boats used to set speed-sailing records).
Especially popular are the 16–23 ft (4.88–7.01 m) one-design boats; these are mass-produced craft made from a single blueprint and intended for the sailor of modest means. Races between one-design boats are thought to be a particularly good test of a crew's ability, to which, rather than to design, any variation in speed must, at least in theory, be attributable.
History of Sport Sailing
Although sailing as a means of transportation predates history, sport sailing—or yachting—seems to have originated in the 17th cent. in Holland. From there it was introduced into England (c.1660) by Charles II, and eventually spread to the American colonies. Then, as now, it was common for sport sailors to join together for social and recreational purposes in groups known as yacht clubs. The world's first such club was founded (1720) at Cork, Ireland. The oldest continuously existing club in the United States is the New York Yacht Club (NYYC; founded 1844). In 1851 members of the NYYC raced the schooner America against British competitors around England's Isle of Wight. Victorious, they deeded their trophy to the NYYC. It became known as the America's Cup, giving its name to the oldest and most prestigious event in international sailboat racing. The United States won every America's Cup (the event has been held irregularly) between 1851 and 1983, when it was won by Australia. Since the 1980s radical changes in boat design, lawsuits involving Cup teams, and even charges of espionage and sabotage have transformed and roiled Cup competition; in 2013 and 2017 foiling wing-sailed catamarans were used. The United States regained the Cup in 1987, then lost it to New Zealand in 1995. New Zealand lost to Switzerland in 2003, the United States held it from 2010, and New Zealand regained it in 2017.
Ocean racing, an arduous and dangerous sport, especially in long-distance solo events, has gained increased notice. Major ocean racing events include the Newport-Bermuda Race, the Transpacific Race, the Volvo Ocean Race, the Vendée Globe, the Velux 5 Oceans Race, and the Clipper Race. Francis Chichester circumnavigated the globe alone in 1967, making only one stop; a year later nonstop around-the-world solo sailing was initiated by the Golden Globe race. Ocean racers now often sail advanced multihulled yachts and are usually aided by such modern technology as sophisticated communication devices and satellite-generated weather reports. Sailboat racing has also been part of the Olympic Games since 1900; at present Olympic sailors compete in nine classes ranging from sailboards 12 ft 1 in. (3.7 m) in length to 26-ft 9-in (8.2-m) sloops. Sailing, traditionally a sport of the wealthy, has been opened to wider participation by modern methods of boatbuilding.
Bibliography
See D. Riggs, Keelhauled: Unsportsmanlike Conduct and the America's Cup (1986); G. C. Aymar, Yacht Racing Rules and Tactics (1990); R. Knox-Johnston, Yachting: The History of a Passion (1990); P. Nichols, Sea Change (1997) and A Voyage for Madmen (2001).
The Columbia Electronic Encyclopedia™ Copyright © 2013, Columbia University Press. Licensed from Columbia University Press. All rights reserved.
www.cc.columbia.edu/cu/cup/
sailing
[

′sāl·iŋ

]

(navigation)

A method of solving the various problems involving course, distance, difference of latitude, difference of longitude, and departure; the various methods are collectively termed the sailings.

McGraw-Hill Dictionary of Scientific & Technical Terms, 6E, Copyright © 2003 by The McGraw-Hill Companies, Inc.
sailing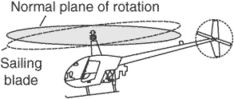 i
. The method of calculating tracks and distances without plotting and measuring or using other allied processes, such as fixing a position by knowing the run along a track from a starting point. The various types of sailings are
parallel sailing
, in which the starting and destination points are on the same latitudes;
plain
, or
middle latitude, sailing
, which is sailing along a rhumb line from one position to another not situated on the same latitude;
great-circle sailing
, in which an aircraft follows a great-circle track; and
Mercatorial sailing
, a method used to find the rhumbline course and distance between two positions whose latitudes and longitudes are known.
ii
. The undesired flapping of helicopter rotors at low-rotor RPM, especially during start-up and shutdown and in high-wind conditions is called blade sailing. High winds and gusts will cause the main rotor blades of helicopters to flap up and down and be both a danger to people near them and the helicopter itself, as the blade stops could be damaged, or a particularly flexible blade could hit the tail boom. At certain critical speeds (50–100 RPM), blades will pass in and out of the stall. Holding the cyclic in the direction of the wind will keep the pitch of the advancing blade to a minimum and stop it lifting in the first place. Other ways of minimizing the effect include using rotor brakes (if available) or increasing the RPM rapidly on start-up, switching off the helicopter when it is facing into the wind, especially in high-wind conditions, parking the helicopter away from the downwind side of obstructions or the downwash or slipstream of other machines, keeping the collective down, or accelerating and decelerating the blades as quickly as possible. In addition, pointing the nose out of wind ensures that the lowest deflection is away from the tail boom.
iii
. The art of navigating a seaplane on water.
An Illustrated Dictionary of Aviation Copyright © 2005 by The McGraw-Hill Companies, Inc. All rights reserved