sapwood
Also found in:
Dictionary
,
Thesaurus
,
Medical
,
Wikipedia
.
sapwood,
relatively thin, youngest, outer part of the woody stem of a tree, the part that conducts water and dissolved materials. In the cross section of a tree, the sapwood is recognizable by its texture and color; it is softer and lighter than the inner heartwoodheartwood,
the central, woody core of a tree, no longer serving for the conduction of water and dissolved minerals; heartwood is usually denser and darker in color than the outer sapwood.
.....

Click the link for more information.

. As the tree grows in diameter, the innermost layers of sapwood become heartwood, and new sapwood is produced on the outside of the woody column. See woodwood,
botanically, the xylem tissue that forms the bulk of the stem of a woody plant. Xylem conducts sap upward from the roots to the leaves, stores food in the form of complex carbohydrates, and provides support; it is made up of various types of cells specialized for each of
.....

Click the link for more information.

.
Sapwood
The outer layers of the wood of a tree, in which food materials are conveyed and stored during the life of a tree; they are usually of lighter color than the heartwood.
Sapwood
alburnum, the outer, young, physiologically active layers of wood adjoining the generative tissue, or cambium. Sapwood is distinguished from the interior part (heartwood) by its lighter color and lesser mechanical solidity; it contains more water and is less resistant to destruction by fungi and insects than heartwood and mature wood.
sapwood
[

′sap'wu̇d

]

(botany)

The younger, softer, outer layers of a woody stem, between the cambium and heartwood. Also known as alburnum.
sapwood, alburnum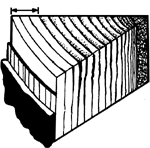 The wood of a tree between the bark and heartwood; normally lighter in color than the heartwood; equal in strength to heartwood but usually not as decay-resistant.