satellite radio
Also found in:
Dictionary
,
Thesaurus
,
Medical
,
Acronyms
,
Wikipedia
.
digital radio
digital radio, audio broadcasting in which an analog audio signal is converted into a digital signal before being transmitted; also known as digital audio broadcasting (DAB) and high-definition radio. Digital radio reception is virtually free of static and fading, pops, and hisses; overall, adjacent stations do not interfere within one another, audio clarity and volume are improved, and weather, noise, and other interference cease to be a factor. Digital radio can be land based (or terrestrial) or transmitted via satellite. In either case, a special receiver is required to decode the multiplexed signal; the receiver may contain a small display that provides information about the audio content (such as the name of the artist or title of the music).
The land-based technology was first deployed in Great Britain in 1995, and has since become established throughout Europe. The first satellite-based digital radio system was WorldSpace, which orbited the first of its three geostationary earth orbit (GEO) satellites, AfriStar, in 1998. Each satellite transmits three overlapping signal beams carrying more than 40 channels of programming; most of world (except mainly North America and Australia) is covered. The first satellite-based system to provide a mobile subscription digital radio service covering the United States was XM Satellite Radio, which orbited two GEO satellites in 2001. In a satellite-based system, ground stations transmit digital signals to the satellites, which retransmit them directly to radio receivers on the ground. The receivers unscramble the signal, which may contain more than 100 channels of digital audio. In metropolitan areas where tall buildings, overpasses, and other obstacles can interfere with the signals when, for example, the receiver is in a moving vehicle, a network of ground-based repeaters retransmit the signals. The receiver also buffers the signal briefly so that if it loses the satellite signal it can use one from a repeater to maintain a continuous broadcast. Sirius Satellite Radio, which began national service to the United States in 2002, launched three satellites in inclined elliptical orbits instead of GEO satellites. Sirius and XM merged in 2008, forming Sirius XM, which operates three satellite radio services.
The Columbia Electronic Encyclopedia™ Copyright © 2022, Columbia University Press. Licensed from Columbia University Press. All rights reserved.
satellite radio
Commercial-free digital radio via satellite from SiriusXM Satellite Radio (www.siriusxmradio.com). For a monthly fee, or a single-payment lifetime fee per radio, satellite radio offers more than 120 channels of music, news, sports, weather and talk. Unlike AM, FM and HD terrestrial radio, the satellite channels are consistently available throughout the U.S. as long as there is sufficient line of sight to the satellites. Subscribers can optionally radio service to their PCs, smartphones and Internet radios.

Home, Car and Portable
Nearly all automobiles include satellite tuners in their radios, which typically provide a period of free service before requiring a paid subscription. For non-satellite radios, portable units plug into the car's audio system, as well as a home stereo. For older cars that do not have external audio jacks, some portable units output an FM signal that is picked up by the car's FM tuner. See DAB and DARS.

Merged Companies
Launched respectively in 2001 and 2002, XM Satellite Radio and Sirius Satellite Radio competed for business until 2007, when they merged to become SiriusXM Satellite Radio. Extra-cost premium channels were duplicated on both services so that XM users could optionally add the "Best of Sirius," and Sirius subscribers could obtain the "Best of XM."

Satellite and Terrestrial Transmission
The Sirius system uses satellites that transmit in the 2320-2332.5 MHz range, while XM uses 2332.5-2345 MHz. Using frequencies in the center of their respective ranges, both systems employ terrestrial transmission to augment the satellites in cities with tall buildings and in areas with strong interference. See HEO.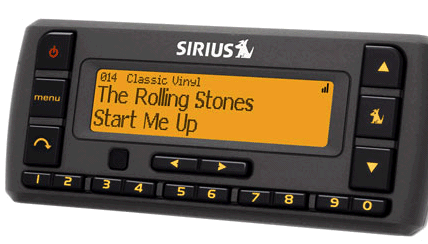 At Home; On the Road
This early unit included a line out for the car's audio system, as well as an FM station transmitter that the car's radio could tune into. At home, it plugged into a docking station for connection to a stereo. (Image courtesy of Sirius Satellite Radio, www.siriusxm.com)
Copyright © 1981-2019 by The Computer Language Company Inc. All Rights reserved. THIS DEFINITION IS FOR PERSONAL USE ONLY. All other reproduction is strictly prohibited without permission from the publisher.