scorpion
Also found in:
Dictionary
,
Thesaurus
,
Medical
,
Idioms
,
Wikipedia
.
scorpion
scorpion,
any arachnid of the order Scorpionida with a hollow poisonous stinger at the tip of the tail. Scorpions vary from about 1/2 in. to about 6 in. (1–15 cm) long; most are from 1 to 3 in. (2.5–7.6 cm) long. They are predominantly tropical or subtropical, but some species live in temperate regions. During the day they hide in crevices or under objects, emerging at night to feed, mostly on other arthropods. The body is composed of a prosoma (head) covered by a solid protective covering, or carapace, and a segmented opisthosoma (body) divided into a broader mesosoma and a narrower metasoma, which ends in a sting. There are six pairs of appendages located on the prosoma: short, pincerlike appendages called chelicera, which are used to tear up food for swallowing; large appendages called pedipalps, equipped with powerful pincers used to grasp prey (which is then immobilized by stinging if necessary); and four pairs of walking legs. The first segment of the opisthosoma has vestigial appendages in the form of a genital opening (operculum), and the second segment bears unique, comblike sensory appendages known as pectines. The next four opisthosomal segments each bear a pair of respiratory structures known as
book lungs
, which open into the body by way of a hole, or spiracle. The metasoma is carried high in the air, in preparation for a quick stinging thrust. Although scorpion stings are painful, they are not usually dangerous to humans. Exceptions are the greatly feared scorpion
Androctonus australis
of the Sahara Desert, whose sting causes death in 6 to 7 hr if the victim is not treated with antivenin, and several species of the genus
Centruroides,
found in Mexico, which have been responsible for the deaths of a number of persons, mostly children. The scorpion neurotoxin causes convulsions; death results from respiratory or cardiac failure. Complex courtship rituals precede mating. The young scorpions are born alive and are carried for a time by the mother, leaving her after the first molt. About a year is required to reach maturity. Scorpions are classified in the phylum
Arthropoda
, class Arachnida, order Scorpionida.
The Columbia Electronic Encyclopedia™ Copyright © 2022, Columbia University Press. Licensed from Columbia University Press. All rights reserved.
Scorpion
(pop culture)

Bitter enemies Spider-Man and the Scorpion share one thing in common: a dislike of J. Jonah Jameson. As shown in Stan Lee and Steve Ditko's The Amazing Spider-Man vol. 1 #19 (1964), low-rent P.I. MacDonald "Mac" Gargan is hired by Daily Bugle publisher Jameson to shadow photographer Peter Parker to discover how he gets so many photos of Spider-Man. Since Parker is Spider- Man, his spider-sense allows him to dodge Gargan's tail, leading Jameson to make another offer in issue #20: for ten grand, Gargan undergoes mutagenic treatments by scientist Farley Stillwell to transform him into the human embodiment of the spider's natural nemesis, the scorpion. With a green ribbed exoskeleton boasting glove pincers and a telepathically controlled, 6-feet-long steel tail he can whip at nearly 100 miles per hour, the Scorpion— driven mad by his transformation—becomes a menace to not only Spider-Man but to the general public as well. Once Jameson attempts to disassociate himself from the rogue he funded, the betrayed Scorpion attacks the newspaper publisher, with Spidey swinging to the rescue. Genetically conditioned to hate Spider-Man, the Scorpion has become one of the wall-crawler's most consistent foes. He equipped his tail with an energy blaster to fight Spidey and Captain America in Marvel Team-Up vol. 1 #106 (1981), and since has added other potentially lethal modifications. The Avengers and Alpha Flight have also felt the Scorpion's sting, but Gargan's sinister focus remains upon Spider-Man, even following the hero into his various television animation incarnations, and into toy stores in the form of action figures manufactured by Toy Biz. In 2005 Marvel introduced an all-new Scorpion— a teen-age girl with a shady past—as an agent of S.H.I.E.L.D. in the pages of Amazing Fantasy. Meanwhile Gargan, after a brief anti-Spider-Man alliance with the Green Goblin, became the new Venom after bonding with the alien Venom symbiote. The name "Scorpion" has been used on several occasions for other villains, including the nemesis in the film Blake of Scotland Yard (1937), Popular Publications' pulp magazine The Scorpion #1 (1939), and as a black-robed mastermind in the twelve-chapter movie serial The Adventures of Captain Marvel (1941). Atlas/Seaboard Publications produced three issues of a pulp-hero comic book titled The Scorpion in 1975.

The Supervillain Book: The Evil Side of Comics and Hollywood © 2006 Visible Ink Press®. All rights reserved.
scorpion
[

′skȯr·pē·ən

]

(invertebrate zoology)

The common name for arachnids constituting the order Scorpionida.
---
Scorpion
[

′skȯr·pē·ən

]

(astronomy)

McGraw-Hill Dictionary of Scientific & Technical Terms, 6E, Copyright © 2003 by The McGraw-Hill Companies, Inc.
scorpion
1. any arachnid of the order Scorpionida, of warm dry regions, having a segmented body with a long tail terminating in a venomous sting
2. false scorpion any small nonvenomous arachnid of the order Pseudoscorpionida (or Chelonethida), which superficially resemble scorpions but lack the long tail
3. any of various other similar arachnids, such as the whip scorpion, or other arthropods, such as the water scorpion
4. Old Testament a barbed scourge (I Kings 12:11)
5. History a war engine for hurling stones; ballista
Collins Discovery Encyclopedia, 1st edition © HarperCollins Publishers 2005
Scorpion
Twenty tools that can be used to construct specialised programming environments. The Scorpion Project was started by Prof. Richard Snodgrass <rts@cs.arizona.edu> as an outgrowth of the
SoftLab
Project (which produced the IDL Toolkit) that he started when he was at the University of North Carolina. The Scorpion Project is directed by him at the
University of Arizona
and by Karen Shannon at the University of North Carolina at Chapel Hill.
Version 6.0 runs on Sun-3, Sun-4,
VAX
,
Decstation
,
Iris
,
Sequent
, HP9000.
See also
Candle
.
ftp://cs.arizona.edu/scorpion/
.
Mailing list: info-scorpion-request@cs.arizona.edu.
E-mail: <scorpion-project@cs.arizona.edu>.
This article is provided by FOLDOC - Free Online Dictionary of Computing (foldoc.org)
Snapdragon
A family of SoC chips (systems-on-chip) from Qualcomm that is used in Android smartphones and other products. Introduced in 2007, the popular Snapdragon chips are powered by Qualcomm's Kryo CPUs (ARM Cortex) and Adreno GPU (graphics processing unit). Snapdragon SoCs are used in smartphones by Samsung, OnePlus, LG, Sony, ZTE and other manufacturers. See Qualcomm and SoC.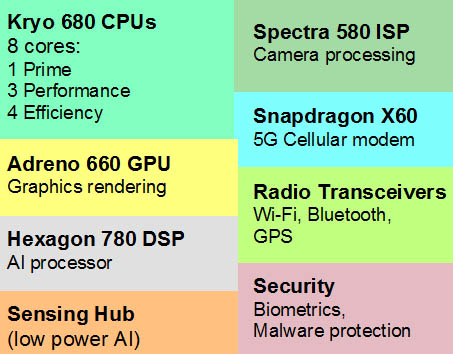 Snapdragon 888
In 2020, Qualcomm introduced the Snapdragon 888 SoC. Packed with specialized circuits, the sensing hub is a low-power AI processor that detects activities and audio events.
Copyright © 1981-2019 by The Computer Language Company Inc. All Rights reserved. THIS DEFINITION IS FOR PERSONAL USE ONLY. All other reproduction is strictly prohibited without permission from the publisher.
Scorpion
(dreams)

Dreaming about a scorpion may be symbolic of something in your environment which is hurtful, dangerous, and "stinging." It may represent bitter words and very negative attitudes. Superstition-based dream interpretation books say that a scorpion may constitute a warning. It further states that if the scorpion in your dream bit you, you will overcome your problems. However, if you killed the scorpion, be exceptionally careful around people who are not your friends, or are false friends. Some believe that the scorpion is a symbol of transformation.

Bedside Dream Dictionary by Silvana Amar Copyright © 2007 by Skyhorse Publishing, Inc.