scroll
(redirected from scrolled)
Also found in:
Dictionary
,
Thesaurus
,
Legal
.
scroll
[

skrōl

]

(architecture)

An ornament consisting of a spirally wound band, either as a running ornament or a terminal.

(computer science)

To move information in an electronic display up, down, left, or right, so that new information appears and some of the existing information is moved away.

(geology)

One of a series of crescent-shaped sediments on the inner bank of a moving channel, deposited there by the stream.
scroll
1. Ornamentation that consists of a spirally wound band or a band resembling a partially rolled scroll of paper; S scrolls are found in ornamental brackets, window and door surrounds, and in other ornamental bands.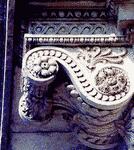 See also: Ornament

2. An ornamental molding consisting of a spiral design; or a terminal, such as the volutes of the Ionic capital or the S curves on consoles.
Scroll
a manuscript in the form of a long sheet rolled up as a tube. One of the oldest forms of the book, the scroll was prevalent in ancient Egypt and ancient Greece and Rome. Scrolls were usually made of papyrus and were sometimes ornamented with miniatures. They were replaced in Europe by parchment codices between the fourth and sixth centuries A.D.: in the Far East they continued to be used until modern times. During the Middle Ages only documents of moderate length and individual liturgical texts appeared in the form of scrolls.
scroll

An ornament consisting of a spirally wound band, either as a running ornament or as a terminal, like the volutes of the Ionic capital or the scrolls on consoles and modillions.
scroll
early form of manuscript; symbolic of learning. [Christian Symbolism: Appleton, 85]
SCROLL
(1)

String and Character Recording Oriented Logogrammatic Language.

["SCROLL - A Pattern Recording Language", M. Sargent, Proc SJCC 36 (1970)].
scroll
(interface)

(From a scroll of paper) To change the portion of a document displayed in a window or on a

VDU

screen. In a

graphical user interface

, scrolling is usually controlled by the user via scroll bars, whereas on a VDU the text scrolls up automatically as lines of data are output at the bottom of the screen.
scroll
To continuously move forward, backward or sideways through the text and images on screen or within a window. Scrolling implies continuous and smooth movement, a line, character or pixel at a time, as if the data were on a paper scroll being rolled behind the screen. See auto scroll.