sector scan
Also found in:
Dictionary
,
Medical
.
sector scan
[

′sek·tər 'skan

]

(electronics)

A radar scan through a limited angle, as distinguished from complete rotation.

McGraw-Hill Dictionary of Scientific & Technical Terms, 6E, Copyright © 2003 by The McGraw-Hill Companies, Inc.
sector scan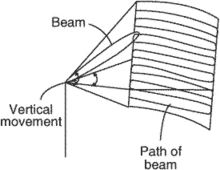 A scan pattern in which the radar beam is made to rotate in the horizontal plane about the transmitter through a selected angle. This pattern is used in fire control, airborne interception, and the precision approach radars.
sector search
i
. A method of searching for a ground target in a given sector. This method is used when the area of search is restricted. If the area is bigger, the
creeping-line-ahead search method is used for the outer zone, whereas the sector search is used for the inner zone. The method involves flying along a radial and returning to base along a slightly different radial. The distance between the two radials, at the farthest place, is determined by the sweep width.
ii
. Searching for an aerial target in a given sector. The radar aerial in this case looks and transmits within the given sector.
An Illustrated Dictionary of Aviation Copyright © 2005 by The McGraw-Hill Companies, Inc. All rights reserved