seismograph
Also found in:
Dictionary
,
Thesaurus
,
Wikipedia
.
seismograph
an instrument that registers and records the features of earthquakes. A seismogram is the record from such an instrument
Collins Discovery Encyclopedia, 1st edition © HarperCollins Publishers 2005
seismograph
(sÿz -mŏ-graf, -grahf) An instrument used in seismology to detect and record the passage of seismic waves, normally by making a continuous recording of the position of a suspended mass in relation to a frame fixed to the ground.

Collins Dictionary of Astronomy © Market House Books Ltd, 2006
The following article is from The Great Soviet Encyclopedia (1979). It might be outdated or ideologically biased.
Seismograph
an instrument that records oscillations of the ground caused by seismic waves.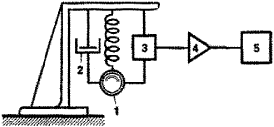 A seismograph (Figure 1) consists of a seismometer—an instrument that receives the seismic signal—and a recording device. The basic part of the seismometer is a weight connected with the case of the instrument by elastic couplings, for example, a pendulum. The case of the instrument is rigidly fixed to the object being studied. When the object oscillates, inertia causes the weight to move relative to the case. In most modern seismometers, this movement is converted into an electrical signal, which is recorded, usually in analogue form, by a mechanical, photographic, or magnetic recorder. Coded digital recording is sometimes used to increase the dynamic range and for convenience in subsequent computer processing.
There are also simpler seismographs, in which the movement of the seismometer weight is magnified mechanically or optically and is recorded by a mechanical or photographic recorder.
The Great Soviet Encyclopedia, 3rd Edition (1970-1979). © 2010 The Gale Group, Inc. All rights reserved.
seismograph
[

′sīz·mə'graf

]

(engineering)

An instrument that records vibrations in the earth, especially earthquakes.

McGraw-Hill Dictionary of Scientific & Technical Terms, 6E, Copyright © 2003 by The McGraw-Hill Companies, Inc.