selective calling system
Also found in:
Acronyms
.
selective calling system
[

si′lek·tiv 'kȯl·iŋ 'sis·təm

]

(communications)

A radio communications system in which the central station transmits a coded call that activates only the receiver to which that code is assigned.
selective calling system (selcal)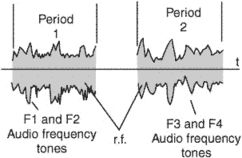 An automatic signaling system used in aircraft to notify the pilot that the aircraft is receiving a call. Each aircraft operated by an airline is assigned a particular four-tone combination for identification purposes. A ground station keys the signal when trying to contact a particular aircraft. The signal is decoded by the airborne selcal system and the crew is alerted. The system can operate on VHF (very high frequency) as well as HF (high frequency) frequencies. A total of 10,920 codes can be generated by the system.