semimonocoque
semimonocoque
[

¦sem·i′män·ə'käk

]

(aerospace engineering)

A fuselage structure in which longitudinal members (stringers) as well as rings or frames which run circumferentially around the fuselage reinforce the skin and help carry the stress. Also known as stiffened-shell fuselage.
semimonocoque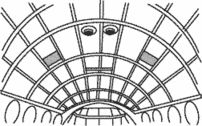 A type of aircraft structure in which the skin also shares part of the load.