shutter
Also found in:
Dictionary
,
Thesaurus
,
Medical
,
Legal
,
Acronyms
,
Idioms
,
Wikipedia
.
shutter
1. a hinged doorlike cover, often louvred and usually one of a pair, for closing off a window
2. put up the shutters to close business at the end of the day or permanently
3. Photog an opaque shield in a camera that, when tripped, admits light to expose the film or plate for a predetermined period, usually a fraction of a second. It is either built into the lens system or lies in the focal plane of the lens (focal-plane shutter)
4. Photog a rotating device in a film projector that permits an image to be projected onto the screen only when the film is momentarily stationary
5. Music one of the louvred covers over the mouths of organ pipes, operated by the swell pedal
Shutter
One of a pair of movable panels used at window openings to provide privacy and protection from the elements when closed.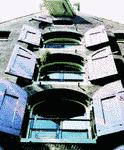 Shutter
a device in motion-picture equipment that periodically cuts off the light passing through the aperture while the film is being advanced by the shuttle.
Both rotating (disc, conical, barrel) shutters and reciprocat-ing-motion curtain shutters are in use. Every shutter has an opening—90°, for example—through which light passes to the photosensitive layer of the film being exposed in a movie camera or to the frame of the film being projected in a film projector. The angle of the shutter's masking blade is such that the shutter cuts off the rays of light during the time required to change frames. The rotating speed of the shutter must correspond to the frame-per-second speed of filming or projection. Shutters are also used in other optical-mechanical and photoelectric instruments in, for example, modulation of light.
shutter
[

′shəd·ər

]

(nucleonics)

A movable plate of absorbing material used to cover a window or a beam hole in a reactor when radiation is not desired, or used to shut off a flow of slow neutrons.

(optics)

A mechanical device that cuts off a beam of light by opening and closing at different rates of speed to expose film or plates; used in cameras and motion picture projectors.

(ordnance)

A barrier in an explosive train used to stop a detonation wave; an interrupter which opens or closes as a shutter; often used to obtain fuse safety.
shutter
(1) An opaque window that is moved in one direction to let light in and in another to close off the light. In fixed-lens cameras, one shutter often suffices for aperture and speed. In most single lens reflex (SLR) cameras, the camera has a built-in shutter that pops up to let light in and drops down after a certain amount of time, while each lens contains its own diaphragm shutter that acts like an iris to let light pass (aperture setting). See shutter speed, aperture and shutter lag.

(2) To close down an operation, project or venture.