Siamese
(redirected from siameze)
Also found in:
Dictionary
,
Thesaurus
.
Siamese
2. characteristic of, relating to, or being a Siamese twin
Collins Discovery Encyclopedia, 1st edition © HarperCollins Publishers 2005
Siamese
(Thai) architecture (1350–1500)

An architecture consisting of stupas and temples. The most characteristic forms are the eaves of overlapping roof planes, which are terminated with sculptural finials. The Temple of the Emerald Buddha in Bangkok is the most notable example.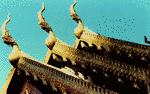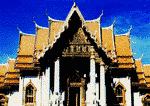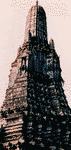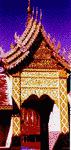 Illustrated Dictionary of Architecture Copyright © 2012, 2002, 1998 by The McGraw-Hill Companies, Inc. All rights reserved
The following article is from The Great Soviet Encyclopedia (1979). It might be outdated or ideologically biased.
Thai (Siamese) Language
the language of the Khon Thais in Thailand; the official language of Thailand. Thai belongs to the Thai group of languages; its deeper genetic links have not been established. There are four dialects: central (the basis of the literary language), northern, northeastern, and southern.
Structurally, Thai is a syllabic language. The syllable generally corresponds to the morpheme and is thus the basic structural unit, characterized by a specific tone. Thai has five tones that serve to distinguish meaning. Phonologically, there are 20 consonants and 24 vowel phonemes, of which 18 are monophthongs and six are diphthongs. The vowels are paired according to length and shortness. Word formation occurs chiefly by means of compounding. Morphologically, Thai is an analytic language; the grammatical meaning of the content word is transmitted by auxiliary words.
Typologically, Thai belongs to the root-isolating languages. The written language, established in 1283, derives from southern Indian script, probably through Khmer writing.
REFERENCES
Morev, L. N., Iu. Ia. Plam, and M. F. Fomicheva. Taiskii iazyk. Moscow, 1961.
Noss, R. B. Thai: Reference Grammar. Washington, D.C., 1964.
The Great Soviet Encyclopedia, 3rd Edition (1970-1979). © 2010 The Gale Group, Inc. All rights reserved.