skew
(redirected from skewly)
Also found in:
Dictionary
,
Thesaurus
,
Medical
.
skew
1. Machinery having a component that is at an angle to the main axis of an assembly or is in some other way asymmetrical
2.
Maths
a. composed of or being elements that are neither parallel nor intersecting as, for example, two lines not lying in the same plane in a three-dimensional space
b. (of a curve) not lying in a plane
3. Psychol the system of relationships in a family in which one parent is extremely dominating while the other parent tends to be meekly compliant
skew
[

skyü

]

(computer science)

In character recognition, a condition arising at the read station whereby a character or a line of characters appears in a "twisted" manner in relation to a real or imaginary horizontal baseline.

(electronics)

The deviation of a received facsimile frame from rectangularity due to lack of synchronism between scanner and recorder; expressed numerically as the tangent of the angle of this deviation.

The degree of nonsynchronism of supposedly parallel bits when bit-coded characters are read from magnetic tape.

(mechanical engineering)

Gearing whose shafts are neither interesecting nor parallel.

(science and technology)

Deviating from rectangularity or a straight line.
kneeler, kneestone, skew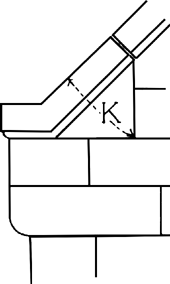 1.
A building stone which is sloped on top and flat on the bottom, as the stone that supports inclined coping on the slope of a gable. Also see
footstone; gable springer
.
2. The stone that breaks the horizontal-vertical unit-and-joint pattern of a normal masonry wall to begin the curve or angle of an arch or vault.
skew
(1) The misalignment of a document or punch card in the feed tray or hopper that prohibits it from being scanned or read properly.

(2) In facsimile, the difference in rectangularity between the received and transmitted page.

(3) In communications, a change of timing or phases in a transmission signal.

(4) See cylinder skew and head skew.