spud
(redirected from spuds)
Also found in:
Dictionary
,
Thesaurus
,
Medical
,
Idioms
.
spud
1. a narrow-bladed spade for cutting roots, digging up weeds, etc.
2. a tool, resembling a chisel, for removing bark from trees
spud
[

spəd

]

(design engineering)

A diamond-point drill bit.

An offset type of fishing tool used to clear a space around tools stuck in a borehole.

Any of various spade- or chisel-shaped tools or mechanical devices.

(engineering)

(mining engineering)

A nail, resembling a horseshoe nail, with a hole in the head, driven into mine timbering or into a wooden plug inserted in the rock to mark a surveying station.

(naval architecture)

A foot piece to provide support for the legs of the A frame of a floating dipper dredge.
spud
1. A sharp narrow bar or spade used for removing gravel and roofing from a roof.
2. A dowel which is in the foot of a doorpost.
3. A short pipe which serves as a connection in a piping system.
SPUD
(Spontaneous Pop-Up Display) A portable 24" monitor from Arovia that was introduced at SXSW 2016. Weighing 1.5 pounds and using rear-projection TV (RPTV) technology, the SPUD unfolds into a 24" monitor with a 1280x720 resolution (higher resolutions to follow). See SXSW and rear-projection TV.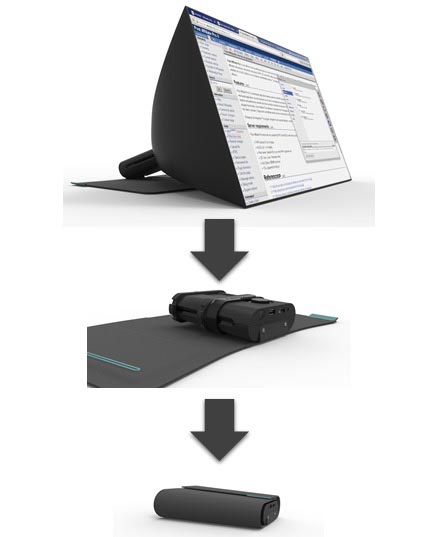 Going, Going, Almost Gone
From a 24" monitor to a unit that takes up the space of an Apple TV set-top box, the SPUD offers a novel approach to a portable monitor. (Image courtesy of Arovia, www.arovia.io)