stacked bond
stack bond, stacked bond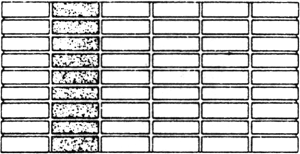 1. In brickwork, a pattern bond; the facing brick is laid with all vertical joints continuously aligned. The brick is bonded to the backing by metal ties.
2. In stone veneer masonry, a pattern in which units of a single size are set with continuous vertical and horizontal joints.
McGraw-Hill Dictionary of Architecture and Construction. Copyright © 2003 by McGraw-Hill Companies, Inc.