stained glass
Also found in:
Dictionary
,
Thesaurus
,
Wikipedia
.
stained glass,
in general, windows made of colored glass. To a large extent, the name is a misnomer, for staining is only one of the methods of coloring employed, and the best medieval glass made little use of it.
Background
Colored glass as window decoration is of great antiquity in East Asia. Muslim designers fitted small pieces of it into intricate window traceries of stone, wood, or plaster, and this type of window mosaic is still in use. Colored glass was used in windows of Christian churches as early as the 5th cent., and pictorial glass as early as the 10th cent.
Medieval Stained Glass
With the development of medieval architecture, stained glass assumed a unique structural and symbolic importance. As the Romanesque massiveness of the wall was eliminated, the use of glass was expanded. It was integrated with the lofty vertical elements of Gothic architecture, thus providing greater illumination. Symbolically, it was regarded as a manifestation of divine light. In these transparent mosaics, biblical history and church dogmas were portrayed with great effectiveness. Resplendent in its material and spiritual richness, stained glass became one of the most beautiful forms of medieval artistic expression.
The early glaziers followed a sketched cartoon for their window design. They used a red-hot iron for cutting the glass to the required pieces, afterward firing in the kiln those that had received painted lines and shadings. The pieces were then fitted into the channeled lead strips, the leads soldered together at junction points, and the whole installed in a bracing framework of iron called the armature. The lead strips were adjusted to the articulation of the design and formed an integral part of it. The coloring of glass was achieved in the melting pot, where metallic oxides were fused with the glass. The metallic ores, although at first crude and limited, ultimately produced admirable color variations. The glass, available only in small pieces, gave thereby a jewellike quality to the colors. The pieces, by their uneven surfaces and varying thicknesses, gave the advantage of irregular and scintillating refractions of light.
Only fragments remain of glass from the 11th cent. The period of greatest achievement in the art extended from 1150 to 1250. Some examples from the 12th cent. can be seen in the windows of Saint-Denis (Paris), Chartres, and Le Mans in France, as well as at Canterbury and at York Minster in England. The windows of this period were characterized by rich dark colors, single figures, and scrollwork. A recurrent design, that of the JesseJesse
, in the Bible, the descendant of Rahab, the grandson of Boaz and Ruth, and the father of David. Referring to the restoration of the Davidic monarchy, the Book of Isaiah speaks of a shoot coming from the "stump of Jesse.
..... Click the link for more information. tree, continued in use until the 16th cent.
By the beginning of the 13th cent. figures were abundantly used in scenes, being enclosed in geometrical medallions, such as circles, lozenges, or quatrefoils. A window was composed of many of these medallions. Color became more detailed and varied, and the prevailing scheme of red, blue, green, and purple, with small amounts of white, created tense and vibrant harmonies. In France the cathedral at Chartres is an unrivaled treasury of 13th-century glass; Sainte-Chapelle, Paris, is a triumph of architecture in which the walls present an illusion of being made entirely of fragile, exquisite stained glass. In England there are outstanding windows at York, Lincoln, and Salisbury. In the 14th cent. as medieval glass-making waned, medallion compositions were replaced by a single figure framed in canopied shrines. Many windows showed clear areas designed in grisaillegrisaille
, a monochrome painting and drawing technique executed in tones of gray. Such works were often produced in the Renaissance to simulate sculpture, as in Uccello's equestrian portrait of Sir John Hawkswood (Cathedral of Florence).
..... Click the link for more information. .
See also rose windowrose window,
large, stone-traceried, circular window of medieval churches. Romanesque churches of both England and the Continent had made use of the wheel window—a circular window ornamented by shafts radiating from a small center circle; and from this prototype developed
..... Click the link for more information. .
Later Stained Glass
In the 15th cent. glass artists achieved a silvery tone by the use of large proportions of white glass, and their figures of saints and apostles were surmounted by elaborate canopies. With improved glassmaking many of the assets of medieval stained glass (small, jewellike pieces of varying thicknesses) vanished. By the 16th cent. the material was smoother and in larger pieces; toward the middle of this century the use of enamel paints permitted the designs to be entirely painted on the glass and then fired. During the 16th cent. stained glass designers emulated the purely pictorial effects of Renaissance oil painting, with complicated perspectives, large scale, and realistic detail.
Stained Glass in the Modern World
Nineteenth-century romanticism and the Gothic revival brought fresh study and emulation of stained glass as well as of other medieval arts. The arts and crafts movement under William MorrisMorris, William,
1834–96, English poet, artist, craftsman, designer, social reformer, and printer. He has long been considered one of the great Victorians and has been called the greatest English designer of the 19th cent.
..... Click the link for more information. was especially productive. A great contribution to American stained glass was made by John La FargeLa Farge, John
, 1835–1910, American artist and writer, b. New York City. He studied with William Morris Hunt in Newport, R.I., and with Thomas Couture in Paris. La Farge began his career as a painter of landscapes and figure compositions.
..... Click the link for more information. and Louis Comfort TiffanyTiffany, Louis Comfort,
1848–1933, American artist, decorative designer, and art patron, b. New York City; son of Charles Lewis Tiffany. He studied painting with Inness and in Paris and painted oils and watercolors in Europe and Morocco.
..... Click the link for more information. . In modern art the medium has been used with great effectiveness by Rouault, Matisse, and Chagall.
Bibliography
See E. L. Armitage, Stained Glass: History, Technology and Practice (1959); J. Baker, English Stained Glass (1960); E. von Witzleben, Stained Glass in French Cathedrals (1968).
The Columbia Electronic Encyclopedia™ Copyright © 2013, Columbia University Press. Licensed from Columbia University Press. All rights reserved.
www.cc.columbia.edu/cu/cup/
stained glass
A glass given a desired color in its molten state or by firing a stain into the surface of the glass after forming; used for decorative windows or transparent mosaics.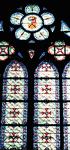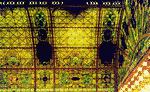 See also: Glass

Illustrated Dictionary of Architecture Copyright © 2012, 2002, 1998 by The McGraw-Hill Companies, Inc. All rights reserved
The following article is from The Great Soviet Encyclopedia (1979). It might be outdated or ideologically biased.
Stained Glass
ornamental or pictorial decorative com-positions (in a window, door, or partition or as an indepen-dent panel) of glass or some other translucent material. In construction, the term "stained glass" also refers to a facade that is totally or mainly made of glass. Colored stained glass that covers window openings creates a rich play of colored light and has a significant effect on the emotional expressiveness of an interior.
Judging by the fragments of flat, colored glass found in Beni Hasan (Egyptian Arab Republic) and Rome, very simple stained glass was manufactured in ancient Egypt from the second millennium B.C., and in ancient Rome from the first century A.D. In the early Christian basilicas in Rome (Santa Sabina, c. 430) and Ravenna (Sant'Apollinare in Classe, 549) window frames were filled with alabaster and selenite, which dimmed the bright daylight inside the building and created an unusual decorative effect as a result of the play of the intricate pattern of the natural veins in the dim light. During the 10th-12th centuries pictorial stained glass made of pieces of colored (red and blue) glass cut out along the contour of the design and held together by lead strips began to be used in Romanesque churches in France (the cathedral of Notre Dame at Chartres before its reconstruction in 1260; and the basilica at Cluny Abbey, 11th century, which has not been preserved) and Germany (the cathedral in Augsburg, early 12th century). Each one of the solemn stiff figures of the saints (The Prophets at the cathedral in Augsburg) filled the window opening. The colored light that penetrated the stained glass gave the interior a mysterious atmosphere. This impression was felt especially in Gothic cathedrals, with their enormous height, spaciousness, and huge windows. During the Gothic period, the stained glass technique remained the same as the Romanesque, but the color schemes of glass became richer and the subjects more complicated. In addition to religious subjects, scenes of everyday life appeared, representing the work of tradesmen (Chartres, after 1260). Colored glass was complemented with white glass, insertions of which created the effect of an irregular spatial background (cathedral of Notre Dame in Paris, stained glass from the 13th and 14th centuries, restored in the 19th century). Sometimes, the details were painted in.
In the 14th and 15th centuries the art of stained glass was developed in England (for example, Westminster Abbey, London, and the cathedral in Wales), where Gothic traditions prevailed until the 18th century. Stained glass technique was developed in a number of other countries, including Switzer-land, Italy, and Poland.
Gradually, painting began to play a dominant role in stained glass technique. Stained glass lost the flatness that was characteristic of medieval art. The forms and shapes of the glass became fragmented and smaller. During the Renaissance the sketches and cartoons for stained glass were executed by such outstanding artists as L. Ghiberti, Uccello, and Donatello in Italy, and A. Diirer in Germany, who viewed stained glass primarily as painting on glass. In the 16th century artists began to decorate residences with cabinet stained glass—monotones with secular subjects. During the baroque and classical periods, stained glass almost disappeared from interior decoration, degenerating into small wall pictures on glass.
Renewed interest in Gothic art in the second half of the 19th century brought about attempts to revive the art of stained glass; however, this led only to stylizations of no great artistic importance. The desire to give emphatic emotional expression to interiors led to the development of stained glass works in the modern style (The Knight, by M. A. Vrubel', Tret'iakov Gallery). Twentieth-century artists (F. Leger and H. Matisse) approached stained glass in a new spirit. They made their compositions part of a unified system of interior decoration, using them as sharply measured, color-saturated accents. From the mid-1950's partitions of stained glass, used as protection against the wind in front of building entrances, and illuminated stained glass panels were developed. Modern stained glass is composed of small pieces of glass that are soldered with lead, steel, or plastic strips. Colorless and colored glass are used. The design is engraved or etched with hydrofluoric acid on colorless glass. Increasingly, stained glass is made from solid, three-layered, organic glass, which is then painted and fired, or of thick, broken glass and colored mirrors mounted on cement or rein-forced concrete. The decorative treatment of glass used for stained glass is done by the sandblasting method, colored etching, and casting and pressing. This makes it possible to bring out the rich artistic possibilities of glass, its materiality, and its capacity to be radiant, rough, porous, or sparkling, as well as translucent. Stained glass has acquired perspective and spatial planes. The rich color palette and wide range of textural gradations make it possible to create both ornamental and pictorial compositions. Soviet artists A. V. Stoshkus (Mother-Earth, 1960-61, Gallery of Stained Glass and Sculpture, Kaunas), K. I. Morkunas, L. G. Polishchuk, and others create stained glass designs devoted to great and stirring events.
REFERENCES
Minukhin, E. Vitrazhi. Riga, 1959.
Aubert, M. Le Vitrail en France. Paris, 1947.
Wentzel, H. Meisterwerke der Glasmalerei. Berlin, 1951.
Drake, W. J. A Dictionary of Glasspainters and "Glaysers" of the Tenth to the Eighteenth Centuries. New York, 1955.
Knapp, O. Architektur- und Bauglas in Vergangenheit und Gegen-wart. Halle (Saale), 1958; 2nd ed. Berlin, 1962.
The Great Soviet Encyclopedia, 3rd Edition (1970-1979). © 2010 The Gale Group, Inc. All rights reserved.
stained glass
[

′stānd ′glas

]

(engineering)

Glass colored by any of several means and assembled to produce a varicolored mosaic or representation.

McGraw-Hill Dictionary of Scientific & Technical Terms, 6E, Copyright © 2003 by The McGraw-Hill Companies, Inc.
stained glass
A decorative glass that is given a desired color, not by staining the glass, as the name implies, but by any one of several techniques. One method involves the application of an enamel paint onto a plain or tinted glass surface and firing it in a kiln. Another method fuses various metal oxides with glass while it is in its molten state; the resulting color, which has a jewel-like quality, depends on the metal oxide used. William Morris and his handycraftsmen in a studio near London may be said to have revived the modern art of making stained glass. Louis Comfort Tiffany (1848–1933) and John La Farge (1835–1910), developed yet another technique for making stained glass called
opalescent glass
, Favrile glass, or
American glass
, now often referred to as
Tiffany glass
. It is characterized by unusual combinations of colors and special effects in transparency and opaqueness, creating exaggerated color variations within the glass itself; was much used in the late 1800s and early 1900s for decorative objects, and to highlight architectural details.
McGraw-Hill Dictionary of Architecture and Construction. Copyright © 2003 by McGraw-Hill Companies, Inc.
stained glass
a. glass that has been coloured in any of various ways, as by fusing with a film of metallic oxide or burning pigment into the surface, used esp for church windows
b. (as modifier): a stained-glass window
Collins Discovery Encyclopedia, 1st edition © HarperCollins Publishers 2005