standard pitch
standard pitch
[

′stan·dərd ′pich

]

(acoustics)

A musical pitch based on 440 hertz for tone A; with this standard, the frequency of middle C is 261 hertz.

McGraw-Hill Dictionary of Scientific & Technical Terms, 6E, Copyright © 2003 by The McGraw-Hill Companies, Inc.
The following article is from The Great Soviet Encyclopedia (1979). It might be outdated or ideologically biased.
Standard Pitch
the basic pitch for musical tuning. The sound la (A) of the first octave, with a frequency of 440 cycles per second, is accepted in all countries as the standard pitch. It is produced by a tuning fork and establishes the musical tune of instruments.
The Great Soviet Encyclopedia, 3rd Edition (1970-1979). © 2010 The Gale Group, Inc. All rights reserved.
standard pitch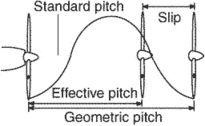 A geometric pitch of a propeller measured at two-thirds of the propeller's radius and expressed either as a percentage or as a fraction. Also called a
nominal pitch
.
An Illustrated Dictionary of Aviation Copyright © 2005 by The McGraw-Hill Companies, Inc. All rights reserved