Stele
(redirected from stelar)
Also found in:
Dictionary
,
Thesaurus
,
Medical
,
Acronyms
.
stele
(stē`lē)

, slab of stone or terra-cotta, usually oblong, set up in a vertical position, for votive or memorial purposes. Upon the slabs were carved inscriptions accompanied by ornamental designs or reliefs of particular significance. Stelae were often used as commemorative stones in ancient Egypt and as boundary markers in Mesopotamia. The marble funerary stelae of Greece, especially of Athens, are among the most beautiful monuments of classical art. Likenesses of the dead were sculptured in relief and painted upon them. Stelae of great age are found in China and among the ruins of the Mayan culture in Mexico and Central America.

The Columbia Electronic Encyclopedia™ Copyright © 2013, Columbia University Press. Licensed from Columbia University Press. All rights reserved.

www.cc.columbia.edu/cu/cup/
Stele
An upright stone slab or pillar with a carved or inscribed surface, used as a monument or marker, or as a commemorative tablet in the face of a building.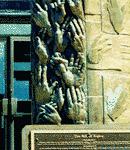 Illustrated Dictionary of Architecture Copyright © 2012, 2002, 1998 by The McGraw-Hill Companies, Inc. All rights reserved
The following article is from The Great Soviet Encyclopedia (1979). It might be outdated or ideologically biased.
Stele
in botany, the central, or axial, part of the stem and root in higher plants. The stele consists of conducting and mechanical tissues and is surrounded by a primary cortex.
---
Stele
an upright stone slab with an inscription or a relief. In the ancient world, particularly in Greece, steles served as gravestones. They were frequently used to mark boundaries or to commemorate an important event, for example, the issue of a new law. Today steles are often used not only for gravestones but also for monuments of all types and purposes.
The Great Soviet Encyclopedia, 3rd Edition (1970-1979). © 2010 The Gale Group, Inc. All rights reserved.
stele
[

′stēl

]

(botany)

The part of a plant stem including all tissues and regions of plants from the cortex inward, including the pericycle, phloem, cambium, xylem, and pith.

McGraw-Hill Dictionary of Scientific & Technical Terms, 6E, Copyright © 2003 by The McGraw-Hill Companies, Inc.
stele, stela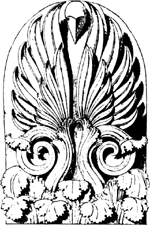 1. In classical architecture and derivatives, an upright stone, usually a slab, marking a grave.
2. A wall area set aside as a memorial.
McGraw-Hill Dictionary of Architecture and Construction. Copyright © 2003 by McGraw-Hill Companies, Inc.