stress raiser
stress raiser
[

′stres 'rā·zər

]

(metallurgy)

A notch, hole, or other discontinuity in contour or structure which causes localized stress concentration.

McGraw-Hill Dictionary of Scientific & Technical Terms, 6E, Copyright © 2003 by The McGraw-Hill Companies, Inc.
stress raiser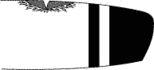 A sharp nick on a propeller. It is so called because the stresses can be concentrated on the point of the nick, possibly causing the structural failure or the loss of a propeller tip, extreme vibration, and loss of control.
An Illustrated Dictionary of Aviation Copyright © 2005 by The McGraw-Hill Companies, Inc. All rights reserved