subsonic inlet
subsonic inlet
[

¦səb′sän·ik ′in'let

]

(engineering)

An entrance or orifice for the admission of fluid flowing at speeds less than the speed of sound in the fluid.

McGraw-Hill Dictionary of Scientific & Technical Terms, 6E, Copyright © 2003 by The McGraw-Hill Companies, Inc.
subsonic inlet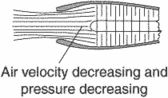 A divergentshaped duct that acts as a subsonic diffuser. The incoming air remains at a subsonic speed throughout the inlet.
An Illustrated Dictionary of Aviation Copyright © 2005 by The McGraw-Hill Companies, Inc. All rights reserved