swash plate
Also found in:
Dictionary
,
Wikipedia
.
swash plate
[

′swäsh 'plāt

]

(naval architecture)

A partial bulkhead in the tank of an oil tanker; used to decrease the back-and-forth surge of liquid as the ship rocks or rolls. Also known as swash bulkhead.
swash plate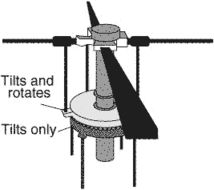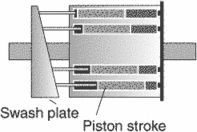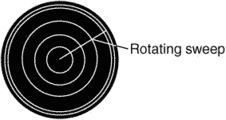 i
. A component of a helicopter control system to change the pitch of a rotor blade by an up-and-down motion. A swash plate has two sections. The upper section, or moving star, can tilt in any direction. It rotates at the same speed as the rotor, as do the rods and appendages above it. The lower section, or fixed star, can only tilt. The lower, or nonrotating, race is tilted by the cyclic control, and the upper, or rotating, race has arms that connect to the control horns on the rotor horns. The collective pitch control lever raises or lowers the entire swash plate assembly and changes the pitch of all the blades at the same time. On the other hand, movement of the cyclic pitch control is transmitted to the rotating blades through the swash plate.
ii
. As it relates to variable output pumps, it is the plate that helps to alter the stroke of the piston and, in turn, the output of the pump. Normally, it is used in a high-pressure fuel pump.
sweepi
. The motion of the visible dot across the face of a cathode-ray tube, as a result of deflections of the electron beam. A linear time-base sweep has a constant sweep speed before retrace. An expanded time-base sweep is produced if the sweep speed is increased during a selected part of the cycle and a delayed time-base sweep if the start of the sweep is delayed, usually to provide an expanded scale for a particular part. A sweep intended primarily for the measurement of the range may be called a
range sweep
.
ii
. Refers to fighter sweeps. Fighters fly across a certain area to clear it of enemy aircraft. Fighter sweeps are also intended to invite or lure enemy aircraft into combat.