tabernacle
Also found in:
Dictionary
,
Thesaurus
,
Acronyms
,
Wikipedia
.
Tabernacle
Tabernacle
(tăbˈərnăkˌəl)
, in the Bible, the portable holy place of the Hebrews during their desert wanderings. It was a tent, like the portable tent-shrines used by ancient Semites, set up in each camp; eventually it housed the Ark of the Covenant (see
ark
,
(2)
). In the Book of Numbers, the Tabernacle is referred to as the "Tent of Meeting" when it functioned as the place for divine revelation to
Moses
. The Tabernacle rested in
Shiloh
before it was finally placed in Jerusalem.
David
kept the Ark of the Covenant inside it. During
Solomon
's reign, the Tabernacle was replaced by the Temple as a sign that God had given his people rest from their wandering. The term is also applied to the small receptacle, used in the Roman Catholic Church, in which the Host in the ciborium is reserved on the altar.
The Columbia Electronic Encyclopedia™ Copyright © 2022, Columbia University Press. Licensed from Columbia University Press. All rights reserved.
Tabernacle
A freestanding ornamental canopy above an altar, tomb, or ornamental niche.
Illustrated Dictionary of Architecture Copyright © 2012, 2002, 1998 by The McGraw-Hill Companies, Inc. All rights reserved
tabernacle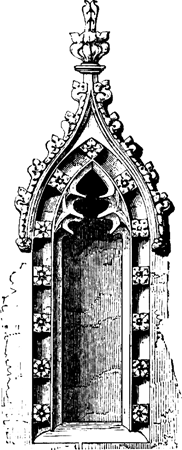 1. A decorative niche often topped with a canopy and housing a statue.
2. A church for a large Protestant congregation.
McGraw-Hill Dictionary of Architecture and Construction. Copyright © 2003 by McGraw-Hill Companies, Inc.
tabernacle
1.
Old Testament
a. the portable sanctuary in the form of a tent in which the ancient Israelites carried the Ark of the Covenant (Exodus 25--27)
b. the Jewish Temple regarded as the shrine of the divine presence
2.
Judaism
an English word for
sukkah
3. a meeting place for worship used by Mormons or Nonconformists
4. a small ornamented cupboard or box used for the reserved sacrament of the Eucharist
5. the human body regarded as the temporary dwelling of the soul
6. Chiefly RC Church a canopied niche or recess forming the shrine of a statue
7. Nautical a strong framework for holding the foot of a mast stepped on deck, allowing it to be swung down horizontally to pass under low bridges, etc.
Collins Discovery Encyclopedia, 1st edition © HarperCollins Publishers 2005