tackle
(redirected from tackling)
Also found in:
Dictionary
,
Thesaurus
,
Medical
,
Legal
,
Idioms
,
Wikipedia
.
tackle
1. any mechanical system for lifting or pulling, esp an arrangement of ropes and pulleys designed to lift heavy weights
2. Nautical the halyards and other running rigging aboard a vessel
3. American football a defensive lineman
tackle
[′tak·əl or ′tāk·əl (naval usage)]

(mechanical engineering)

Any arrangement of ropes and pulleys to gain a mechanical advantage.

(naval architecture)

An assemblage of lines and blocks in which the line passes through more than one block.
tackle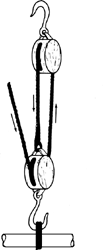 A mechanism for shifting, raising, or lowering objects or materials, such as a rope and pulley block or an assembly of ropes and pulley blocks.