tapestry brick
tapestry brick
Face brick that is laid in a decorative pattern with a combination of vertical, horizontal, and diagonal elements, such as a basket-weave bond.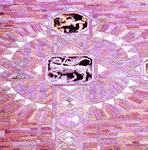 See also: Brick

Illustrated Dictionary of Architecture Copyright © 2012, 2002, 1998 by The McGraw-Hill Companies, Inc. All rights reserved
rustic brick
A fired clay brick, often multicolored, having a rough-textured surface; used for
facing
work.
McGraw-Hill Dictionary of Architecture and Construction. Copyright © 2003 by McGraw-Hill Companies, Inc.