telephoto lens
Also found in:
Dictionary
,
Thesaurus
,
Wikipedia
.
telephoto lens
a compound camera lens in which the focal length is greater than that of a simple lens of the same dimensions and thus produces a magnified image of a distant object
Collins Discovery Encyclopedia, 1st edition © HarperCollins Publishers 2005
The following article is from The Great Soviet Encyclopedia (1979). It might be outdated or ideologically biased.
Telephoto Lens
a photographic lens with a focal length that is longer than normal, in which the distance between the front surface of the first lens and the back focal plane is shorter than in other types of long-focus lenses. This feature permits a reduction in the overall size of still and motion-picture cameras. Telephoto lenses are used in producing large-scale photographs of distant objects and for portraits.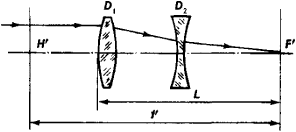 The most common designs for telephoto lenses make use of two components (Figure 1), each consisting of a group of lenses; the first group is a converging system, and the second is a diverging system. The components are combined in such a way that the back principal plane H' is moved forward of the lens and the distance L is shortened. The shortening index Kt = L/f′ In some telephoto lenses, the focusing distance of the second group of lenses is positive, and Kt is close to unity. Such lenses are considered three-group systems.
The Great Soviet Encyclopedia, 3rd Edition (1970-1979). © 2010 The Gale Group, Inc. All rights reserved.
telephoto lens
[

¦tel·ə¦fōd·ō ′lenz

]

(optics)

A lens for photographing distant objects; it is designed in a compact manner so that the distance from the front of the lens to the film plane is less than the focal length of the lens.

McGraw-Hill Dictionary of Scientific & Technical Terms, 6E, Copyright © 2003 by The McGraw-Hill Companies, Inc.