teleprinter
Also found in:
Dictionary
,
Thesaurus
,
Medical
,
Acronyms
,
Wikipedia
.
teleprinter
1.
a telegraph apparatus consisting of a keyboard transmitter, which converts a typed message into coded pulses for transmission along a wire or cable, and a printing receiver, which converts incoming signals and prints out the message See also
telex
radioteletype
2. a network of such devices, formerly used for communicating information, etc.
3. a similar device used for direct input/output of data into a computer at a distant location
teleprinter
[

′tel·ə'print·ər

]

(computer science)

Any typewriter-type device capable of being connected to a computer and of printing out a set of messages under computer control.
teleprinter
A typewriter-like terminal with a keyboard and built-in printer. It can be a desktop or portable unit. Teleprinters were quite common years ago as input terminals for computers, but have given way to the video screen. Teleprinter-like devices are still used in retail applications where receipts are necessary.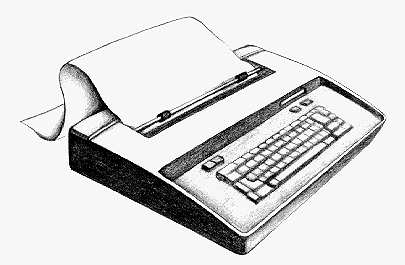 The Teleprinter
Teleprinters were widely used starting with the very first computers. They lived well into the 1970s as a computer input device. Any keyboard and printing unit can be called a teleprinter.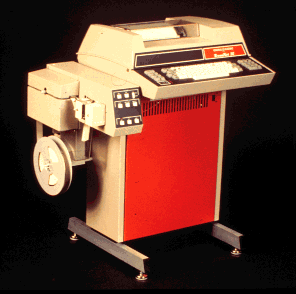 Paper Tape on a Teleprinter
Paper tape was widely used on teleprinters to record incoming data. The reel of tape in this picture is on the lower left side of the unit. (Image courtesy of General Electric Company.)