Telex
Also found in:
Dictionary
,
Thesaurus
,
Legal
,
Acronyms
,
Wikipedia
.
telex:
see telegraphtelegraph,
term originally applied to any device or system for distant communication by means of visible or audible signals, now commonly restricted to electrically operated devices. Attempts at long-distance communication date back thousands of years (see signaling).
.....

Click the link for more information.

.
Telex
an international teletypewriter exchange network. As of the mid-1970's, the Telex network consisted of about 100 national networks equipped with Telex automatic switching stations, which use step-by-step (Strowger) switching and rotary dialing of numbers. The international part of the Telex network uses voice-frequency telegraph channels and radio channels. In most countries the Telex network is not separate from other teleprinter exchange services. Telex is used by about 600,000 subscribers, more than half of them in Europe.
Telex
[

′te'leks

]

(communications)

A worldwide teleprinter exchange service providing direct send and receive teleprinter connections between subscribers. Abbreviated TEX.
Telex
(1) (TELetypewriter EXchange) An international, dial-up data communications service administered in the U.S. by AT&T, MCI and other providers. Developed in the U.S. and other European countries in the 1930s, it was the first data communications service that used typewriter-like terminals (teletypewriters). Prior to Telex, telegrams and cablegrams were the primary method for delivering a text message. By the 1960s, Telex became a worldwide, real-time, data communications service. Although diminishing each year, Telex is still used for commerce in more than 200 countries.

Telex started out transmitting Baudot code at 50 bps. Although upgraded, it is still a low-speed data service. It was originally administered worldwide by various carriers and the local PTTs. Western Union handled the U.S., and in 1971, purchased and integrated the Bell System's TWX service. AT&T acquired Western Union's Telex service in 1991.

(2) (Telex Communications, Inc., Burnsville, MN, www.telex.com) A manufacturer of hearing aids and audio communications devices founded in 1936. Originally making hearing aids, the company evolved into a manufacturer of a variety of audio products, including intercoms, microphones, speakers, headsets, antennas and LCD projectors.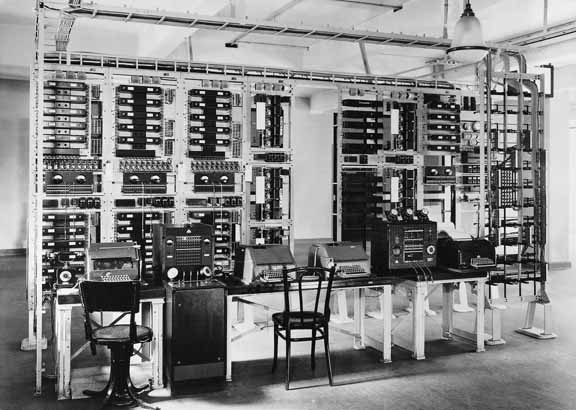 Early Telex Center
A far cry from today's network control centers, this Telex center in Berlin, Germany in 1933 initially communicated with another center in Hamburg. The teletypewriters and communications equipment were made by Siemens. (Image courtesy of Fujitsu Siemens Computers GmbH.)