tendency
Also found in:
Dictionary
,
Thesaurus
,
Medical
,
Acronyms
,
Wikipedia
.
tendency
Politics a faction, esp one within a political party
tendency
[

′ten·dən·sē

]

(meteorology)

The local rate of change of a vector or scalar quality with time at a given point in space.
tendency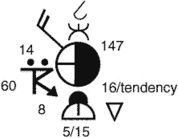 The barometric tendency (i.e., the change of barometric pressure in the last three hours) is shown on the right of the station plot on a synoptic chart or on the remarks section of a METAR (meteorological aeronautical radio code) observation. The illustration depicts the barometric tendency and its legend.