tendril
Also found in:
Dictionary
,
Thesaurus
,
Medical
,
Wikipedia
.
tendril,
slender, sensitive structure of many climbing plants that by a response to contact (see auxinauxin
, plant hormone that regulates the amount, type, and direction of plant growth. Auxins include both naturally occurring substances and related synthetic compounds that have similar effects. Auxins are found in all members of the plant kingdom.
.....

Click the link for more information.

) supports the plant. Tendrils are modified stems, leaves, or leaf parts or roots. Most young tendrils revolve slowly in their natural growth, as do the growing tips of roots and shoots; the tendrils of different plant varieties may have a consistent tendency to clockwise or to counterclockwise spiraling. The most common kind of tendril (pea, grape) coils around a slender support and then contracts spirally, becoming springy and drawing the plant to the support. The disk-tipped tendril (Virginia creeper, Boston ivy) adheres firmly to brick, stone, or wood, after which it too contracts. For other means of climbing in plants, see climbing plantclimbing plant,
any plant that in growing to its full height requires some support. Climbing plants may clamber over a support (climbing rose), twine up a slender support (hop, honeysuckle), or grasp the support by special processes such as adventitious aerial roots (English
.....

Click the link for more information.

.

The Columbia Electronic Encyclopedia™ Copyright © 2013, Columbia University Press. Licensed from Columbia University Press. All rights reserved.

www.cc.columbia.edu/cu/cup/
Tendril
A long, slender, coiling extension, such as a stem, serving as an ornamental device; used primarily by Art Nouveau architects.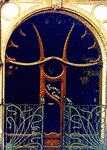 Illustrated Dictionary of Architecture Copyright © 2012, 2002, 1998 by The McGraw-Hill Companies, Inc. All rights reserved
The following article is from The Great Soviet Encyclopedia (1979). It might be outdated or ideologically biased.
Tendril
a usually filamentous organ characteristic of climbing plants that serves to attach the plants to other plants or to objects. Tendrils are the result of metamorphosis of shoots, leaves or parts of leaves, branches, inflorescences, or aerial roots. They wrap themselves around objects and twist spirally (haptotropism); sometimes special disklike suckers develop on the ends of tendrils. Tendrils are common in lianas, including grapes and cucurbits.
The Great Soviet Encyclopedia, 3rd Edition (1970-1979). © 2010 The Gale Group, Inc. All rights reserved.
tendril
[

′ten·drəl

]

(botany)

A stem modification in the form of a slender coiling structure capable of twining about a support to which the plant is then attached.

McGraw-Hill Dictionary of Scientific & Technical Terms, 6E, Copyright © 2003 by The McGraw-Hill Companies, Inc.
tendril
a specialized threadlike part of a leaf or stem that attaches climbing plants to a support by twining or adhering
Collins Discovery Encyclopedia, 1st edition © HarperCollins Publishers 2005