terminal
Also found in:
Dictionary
,
Thesaurus
,
Medical
,
Legal
,
Financial
,
Acronyms
,
Wikipedia
.
terminal
1. (of a disease) terminating in death
2. of or relating to the storage or delivery of freight at a warehouse
3.
a. a point at which current enters or leaves an electrical device, such as a battery or a circuit
b. a conductor by which current enters or leaves at such a point
4. Computing a device having input/output links with a computer but situated at a distance from the computer
5.
Architect
a. an ornamental carving at the end of a structure
b. another name for term (sense 5)
6.
a. a point or station usually at the end of the line of a railway, serving as an important access point for passengers or freight
7.
Physiol
a. the smallest arteriole before its division into capillaries
b. either of two veins that collect blood from the thalamus and surrounding structures and empty it into the internal cerebral vein
c. the portion of a bronchiole just before it subdivides into the air sacs of the lungs
Collins Discovery Encyclopedia, 1st edition © HarperCollins Publishers 2005
Terminal
A terminus occurring at the end of a series of incidents, as a resting point; a point of emphasis, as in an object situated at the end of an element.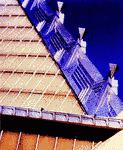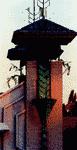 Illustrated Dictionary of Architecture Copyright © 2012, 2002, 1998 by The McGraw-Hill Companies, Inc. All rights reserved
The following article is from The Great Soviet Encyclopedia (1979). It might be outdated or ideologically biased.
Terminal
a device in a computer system designed for input of data and output of information—for example, in man-machine interaction.
Most computer users are some distance from time-sharing computer centers; therefore, they gain access to the computer through terminals linked to the computer by data transmission channels. Examples of terminals include teletypewriters, telephone apparatus equipped with a keyboard for transmitting addresses and commands, cathode-ray tube data displays, and automatic text readers. Terminals are used in systems for automatic control and design, information retrieval, and programmed learning. A distinction is made between terminals designed only for direct data input and output, which sometimes include a memory unit for temporary storage of data, and terminals that incorporate a small computer and are used for preliminary data processing, the solution of problems that are common for specific users, and control of data transmission processes.
Terminals are coming into use in hospitals, libraries, commercial establishments, hotels, and advance ticket sales offices.
REFERENCES
Wilkes, M. Sistemy s razdeleniem vremeni. Moscow, 1972. (Translated from English.)
Chachko, A. G. Chelovekzapul'torn. Moscow, 1974.
The Great Soviet Encyclopedia, 3rd Edition (1970-1979). © 2010 The Gale Group, Inc. All rights reserved.
terminal
[

′ter·mən·əl

]

(architecture)

The ornamental finish, decorative element, or termination of an object, item of construction, or structural part.

(computer science)

A site or location at which data can leave or enter a system.

(electricity)

A screw, soldering lug, or other point to which electric connections can be made. Also known as electric terminal.

The equipment at the end of a microwave relay system or other communication channel.

One of the electric input or output points of a circuit or component.

(mathematics)

The vertex with outdegree 0 that is specified in the definition of an s-t network.

McGraw-Hill Dictionary of Scientific & Technical Terms, 6E, Copyright © 2003 by The McGraw-Hill Companies, Inc.
terminal
1. An electrically conductive element, attached to the end of a conductor or piece of equipment for connection to an external conductor.
2. The ornamental finish, decorative element, or termination of an object, item of construction, or structural part.
McGraw-Hill Dictionary of Architecture and Construction. Copyright © 2003 by McGraw-Hill Companies, Inc.
terminal
(hardware)

An electronic or electromechanical device for entering data into a computer or a communications system and displaying data received. Early terminals were called teletypes, later ones VDUs. Typically a terminal communicates with the computer via a

serial line

.
terminal
(electronics)

The end of a

line

where signals are either transmitted or received, or a point along the length of a line where the signals are made available to apparatus.
terminal
(electronics)

Apparatus to send and/or receive signals on a

line

.

This article is provided by FOLDOC - Free Online Dictionary of Computing (foldoc.org)
terminal
(1) An input/output (I/O) device for a computer that has a keyboard and mouse for input and a video screen for output. Older terminals did not have a mouse and used a printer for output. See dumb terminal and ATM machine.

(2) Any entrance or exit node for input or output; for example, a scanner or camera for input or a monitor or printer for output.

(3) A connector used to attach a wire. The wire is fastened by pressure, by a clip of some type or by tightening a screw. See bindings.

(4) (Terminal) A command line interface on a Unix-based computer. The following Mac example shows two commands; one that switches the current folder (directory) to the desktop and another that lists the files that begin with "X."


Function                      Unix Command

  Change directory to desktop   cd desktop
  List files beginning with X   ls X*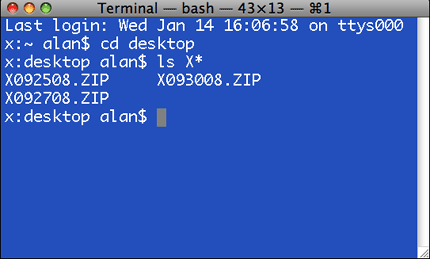 The Terminal Window
The two commands required to list files that begin with "X" on the desktop are shown in this Mac example.
Copyright © 1981-2019 by The Computer Language Company Inc. All Rights reserved. THIS DEFINITION IS FOR PERSONAL USE ONLY. All other reproduction is strictly prohibited without permission from the publisher.